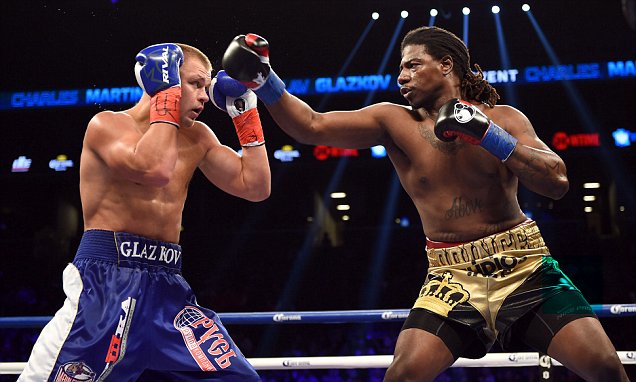 Even though we haven't had much boxing this month, the news didn't stop and we have some doozies this week. Here is your latest edition of Around the Ring:
1.Pacquiao Steps In It – If Manny Pacquiao was trying to take a page from the Mayweather Jr manual of promoting a lackluster fight by being controversial, he didn't really read the chapter quite as close as he should have. In an interview in the Philippines, Pacquiao explained that gays were worse than animals since animals can distinguish between male and female while mating accordingly. Pacquiao apologized but it was too late since Nike dropped him like a bad habit. Even Bob Arum came out and said his comments where reprehensible. Not likely it helps in the PPV buys for his April 9th fight.
2.Martin To The UK – Newly crowned IBF heavyweight king Charles Martin will travel to the United Kingdom to defend his title against fellow unbeaten Anthony Joshua of England. It will be Martin's first defense of the title he won back in late January. The fight will also mark the first time a predominant Al Haymon leaves the country to fight abroad. That fact only fuels the rumors the PBC has financial woes after it was announced the fund that finances the experiment has lost millions upon millions of dollars.
3.Mayweather Jr Threatens – In an interview with FightHype.com, Floyd Mayweather Jr stated if he wanted, he can ruin the party for Saul "Canelo" Alvarez and Amir Khan by simply picking up the phone. "Money" said if he would to call Angel Garcia, newly minted WBC welterweight champion Danny Garcia's father and trainer, and make that fight, the boxing public would be more interested in that fight for May. What is more important, is the PPV distributors and the MGM would love to have their cash cow back in the game and would make it hard for Khanelo to happen over Mayweather Jr-Garcia.
4.Ortiz & Diaz No More – After defeating Gilberto Sanchez Leon via an 8th round TKO last December with Joel Diaz, looks like Victor Ortiz does not want to go back to Indio, CA, and train in the desert. According to Diaz, Ortiz has not made any contact with the trainer and he thinks the former contender is more interested in traveling with his friends. Diaz confirmed that although he has not been officially fired, he feels Victor Ortiz is no longer one of his fighters.
5.GGG and Team Hitting Hard – Looks like WBA/IBF/ Interim WBC middleweight champion Gennady Golovin is taking a different approach to secure a fight with elusive Saul "Canelo" Alvarez. The biggest obstacle is the weight with Alvarez trying to force "GGG" to go down to 155 pounds instead of the division's limit of 160. Golovkin is vehemently opposed and his trainer, Abel Sanchez, has gone as far as to call Alvarez a "diva" in an interview with ESPN in Spanish. The WBC has ordered that after their respective first fights of the year, Golovkin on April 23rd vs Dominic Wade and Alvarez on May 7th vs Amir Khan, both camps have thirty days to negotiate for a September fight. Seeing is believing.
---