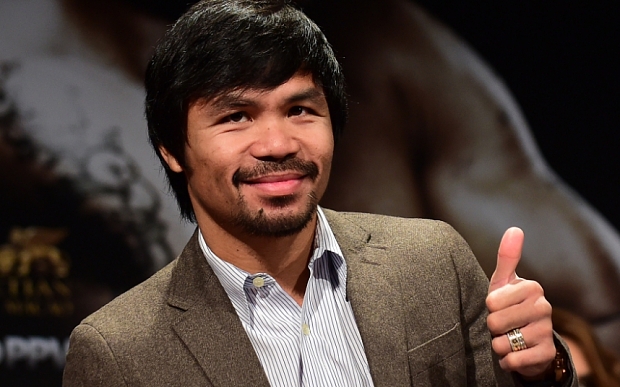 With the fall season upon us big boxing news in the pipeline so without any further ado, here is this week's Around the Ring:
1. Pacquiao Ready Soon – According to Bob Arum, head honcho for Top Rank and Pacquiao's promoter, the Filipino should get the ok from his doctor to start training by the end of the year. With that said, Arum believes Pacquiao will be ready to climb into the ring once again by February in Las Vegas. One fighter he will not be facing will be Juan Manuel Marquez since the Mexican ruled out a fifth showdown with his arch nemesis.
2. Taylor Still in Hot Water – Former middleweight champion Jermaine Taylor is still in trouble. He has been found suitable mentally to stand trial for assaulting a man while in rehab. Trial date has been set for early December.
3. No Maidana in 2015 – Argentinean welterweight Marcos "Chino" Maidana released a statement explaining that he will not be back this year to the ring. Maidana fought Floyd Mayweather Jr twice in 2014 with his last fight in September of that year. He lost both times. It was thought that he would come back in the fall and he even traveled to the States to speak to his trainer Robert Garcia but now Maidana decided not to make his comeback until early next year. He wishes to keep resting and enjoying his growing family. One rumor that is picking up steam is that Maidana might come back at the junior middleweight limit of 154 pounds. A champion at 140 and 147 pounds, if Maidana were to win a title at that new weight class, he would be the first Argentinean to capture titles in three different divisions.
4. Roach Looking Ahead – Freddie Roach, trainer of WBC middleweight champ Miguel Cotto, says publicly that he would like his fighter to face Gennady Golovkin if he is to get past Saul "Canelo" Alvarez in his next fight slated for November 21st. The WBC has ordered the winner between Cotto and "Canelo" to face the winner of "GGG" and Lemieux who fight on October 17th. "GGG" is expected to win. Roach says that he sees errors in Golovkin that Cotto can exploit but one thing that might stop the fight is Cotto's insistence in catch weights despite fighting for the middleweight title. Team "GGG" already has said they will not accept a catch weight for a mandatory fight. We'll see what happens after November 21st.
5. Oquendo Back with Golden Boy – On the undercard of Mayweather vs Berto, Puerto Rican Jonathan Oquendo scored an upset unanimous decision win over former champion Jhonny Gonzalez. On the strength of that win, Oscar De La Hoya's Golden Boy Promotions decided to renew their relationship with the veteran fighter. Oquendo was the first native-born Puerto Rican ever signed by the company during his first sting with Golden Boy. Oquendo and the company state that their priority is to get Oquendo his first world title.
---