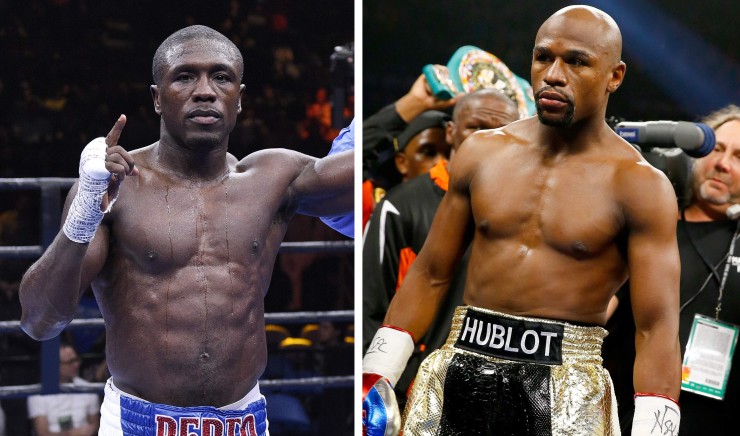 Big news in the latest edition of Around the Ring, let's get started:
It's Official – As it was rumored for months, it is official.  Former welterweight champion Andre Berto of Florida will face the undisputed current pound for pound king Floyd Mayweather Jr on September 12th at the MGM in Las Vegas.  Mayweather Jr says this is his 49th and final fight but it would be hard to believe that the master of marketing himself will go out with this kind of whimper and not the bang that is expected. This fight has all the writings of a tune-up fight en route to something bigger.
Chips Fall – Now that Mayweather Jr chose his next opponent, all the other fighters that were vying for the spot have looked elsewhere.  Amir Khan is now looking towards Pacquiao or at least a rematch with Danny Garcia.  Shawn Porter, who never was in play anyways, is looking for a  fight with Keith Thurman hoping that a win against him will make him next in line against the biggest fighter in the sport.
War of Attrition – Looks like with the sudden announcement of Mayweather Jr-Berto, the undercard for the mega fight is taking shape with the rematch between WBO super featherweight champion "Rocky" Martinez and Orlando "Siri" Salido set for that night.  Another name that is being mentioned for that night is former WBC featherweight champion Jhonny Gonzalez.  No doubt that the powers that be are going after the Mexican and Puerto Rican audience to make this Pay-Per-View work.
Not Official – Although everything points that WBC middleweight champion Miguel Cotto will be defending his title on November 21st at the Mandalay Bay in Las Vegas against Saul "Canelo" Alvarez, the fight is not final since according to Oscar De La Hoya, Alvarez's promoter, there is one final point to negotiate.  Gaby Peñagaricano, Cotto's legal advisor, says there is more than one but that a deal should be reached.  It wouldn't be the first time a Cotto-"Canelo" fight crumbles at the negotiating table despite Cotto and Alvarez the fact that both fighters have begun their training camps.
Another One into the Fold – After ending their relationship not too long ago with Golden Boy Promotions, the Fox Sports network just announced it will lauch a new Tuesday night series featuring the Premier Boxing Champions led by Al Haymon.  No word if it's a time-buy but more than likely it is since everything that the PBC is a time-buy except for their sporadic events on Showtime.  The series kicks off on September 8th with a simulcast on Fox Deportes.  The first fight features former super welterweight champion Austin Trout.
---