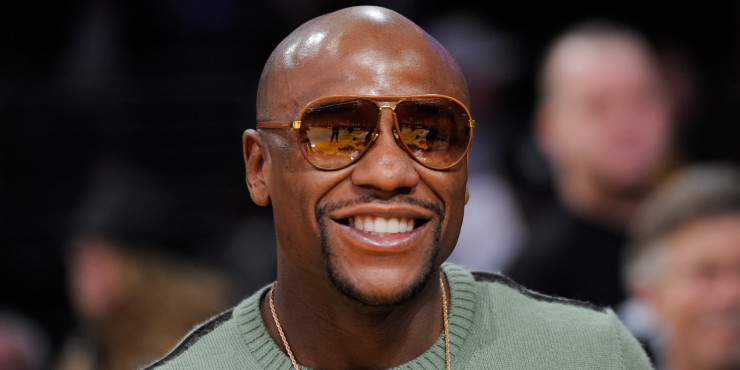 Big fight week is upon us but by the lack of buzz going on, you would never know that Floyd Mayweather Jr is fighting this Saturday night.  The fact that he keeps tooting that this is his last fight ever makes it even stranger. Here is the latest Around the Ring focused strictly on Mayweather vs Berto:
Mayweather Dirty? – According to Sports Illustrated, Mayweather Jr used illegal intravenous vitamin injections before his fight with Manny Pacquiao last May. Reports state the IVs were for treating dehydration.  IVs are banned in Nevada since they can mask illegal substances.  Mayweather Jr was givena retroactive pass eighteen days after the fight.  Rumor is that Mayweather Jr has also been using banned shots for his fragile hands for years but Nevada turns a blind eye so no real news here.
No Demand – Unlike his last fight with Manny Pacquiao where a hard scramble was made by all to secure tickets, it is reported that there is plenty of entries for this Saturday night's event and even at discounted rates. Over two thousand tickets are still available for the fight as of press time.  Something to be said since many of Mayweather Jr's fight at the MGM sell-out pretty quickly.  Leonard Ellerbe, CEO of Mayweather Promotions, brushes off any criticism since he says the gate will still surpass eight figures.   No word of how the Pay-Per-View is trending but it will be hard to believe that it will get close to the million buys making the event a financial failure, except of course for Floyd.
Not Personal – Despite Virgil Hunter's, trainer of Andre Berto, desperate attempts to drum up business by stating that there is some personal beefs going on behind the scenes, both fighters stated that at the final presser that there is no truth to it. Mayweather Jr said its only business while Berto mentioned that he only wants what he deserves and he can only get it by beating Mayweather Jr.
To KO or Not to KO? – There is reports that the main reason Andre Berto, who is 3-3 in his last six fights, was chosen as Mayweather Jr's next opponent is because he is susceptible to the knockout. Mayweather Jr said at final presser that he will be going for the knockout but he always says that.  An executive for Showtime went on record during one of the All-Access that he believes Berto was chosen for just that.
No 50-0 – Since this fight was announced, Mayweather Jr, who is at the end of his historic multi-million dollar six fight agreement with Showtime, has stated that this is the last fight his career. A win over Berto will give him forty-nine wins against zero losses tying the record set by Rocky Marciano. Mayweather Jr insists he is done, there won't be a fiftieth fight.  He said he is ready to move on and promote other fighters, says he wants to see another fighter on tap, tapping former foe Manny Pacquiao as the next super star.  Isn't Pacquiao already one?
---