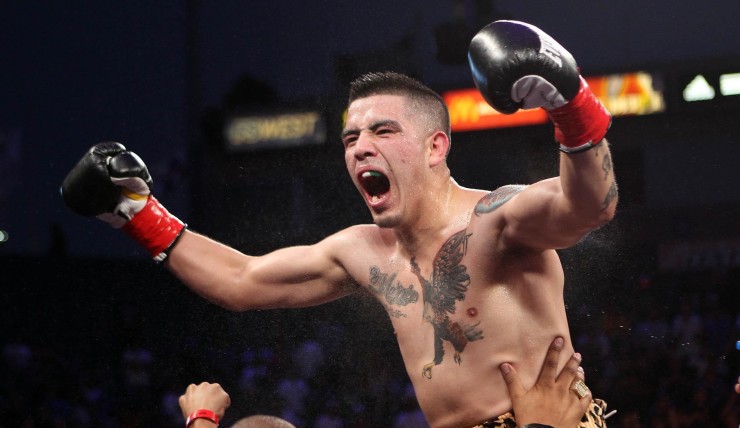 With a supposed end of an era behind us, we have the latest batch of news from the wide world of boxing:
It's Official – This week the kick-off press conference for the November 7th fight featuring WBO welterweight champion Timothy "Desert Storm" Bradley and Brandon "Bam Bam" Rios was held in Los Aneles to officially announce the clash. Rios looked much bigger than Bradley.  The "Desert Storm" also announced the new man in his corner is the legendary Teddy Atlas.  Both fighters promised to be in tremendous shape for the fight.  Going by the past, we can believe Bradley a bit more than Rios.  No word yet if the fight will be for Bradley's WBO title since they will have to give step a side money to mandatory challenger Sadam Ali.
Big Trouble Down Under – After Australian David Browne Jr tragically passed away earlier this week after being in a coma for four days following a brutal knockout loss, the Australian Medical Association has called for a ban of boxing on the island continent. Browne Jr was the second boxer to die of sustained injuries in a boxing match in six months in Australia.  A ban has been called numerous times in different countries when a fighter dies, it is to be expected.  Boxing is a brutal sport that at the end calls for one man or woman to inflict as much punishment on their opponent as possible.  Doubtful that it will be banned since the men and women who participate in the sport do it by their own choice.
Trouble in Paradise – The whole boxing world is waiting for the mega fight set for November 21st set between WBC middleweight champ Miguel Cotto and Saul "Canelo" Alvarez but not everything is perfect in paradise. Cotto has taken umbrage at the fact that during their four-city press tour Alvarez and his trainers "Chepo" and Eddie Reynoso were nothing but gentlemen. Once in the confines of their own gym, the Mexicans have taken to stating disparaging remarks regarding Cotto's trainer Freddie Roach.  Cotto answered in the press by calling them cowards since they wouldn't say anything to their face.
Not An Option – Although just the mere thought of the fight makes any serious boxing fan salivate, Top Rank's Bob Arum has stated publicly that Danny "Swift" Garcia is not option for veteran Manny Pacquiao in 2016. It doesn't matter Freddie Roach, trainer of Pacquiao, says that he wants that fight and that it is an easy one for his charge. Arum is looking more at the trio of Amir Khan, Terrence Crawford or Kell Brook for the first fight of the Filipino in the new year.
Weird Beef – In a strange war of words, trainer Virgil Hunter stated that he would grab Keith Thurman by the ponytail and break his neck. It all began when Hunter, 62, questioned Thurman's chin in regards of a proposed fight against his charge Amir Khan.  Thurman took offense to that and said he not only would knock out Khan but Hunter as well.  Hunter didn't like the remark and stated that even though advanced in age, he still had some tricks up his sleeve.
---