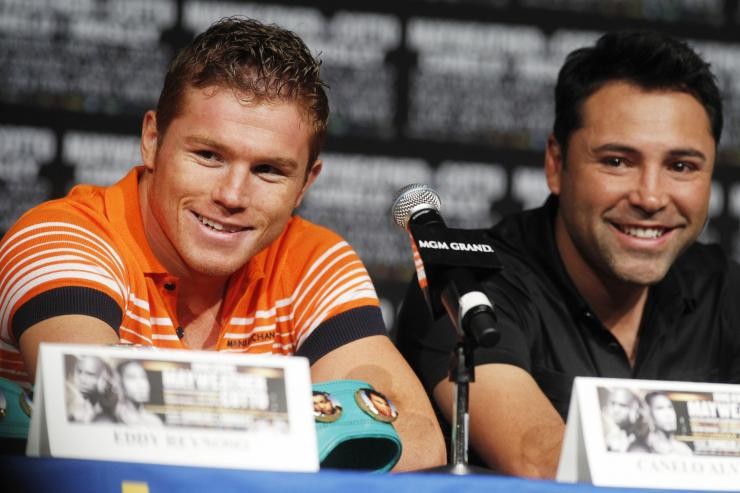 The controversy abounds still days after the WBC middleweight title fight, at least for one of them, between newly crowned champion Saul "Canelo" Alvarez and Miguel Cotto this past Saturday night from the Mandalay Bay in Las Vegas, Nevada.  Unless you were under a rock or not that big of a boxing fan, you would already know Alvarez took a lopsided unanimous decision over Cotto in the twelve round bout.  You should also know the bout was contested at a catch weight of 155 pounds instead the divisional limit of 160 pounds.  Alvarez tipped the scales at the agreed upon weight limit while Cotto actually came in under at 153.5 pounds.
Which brings us to the meat of the issue.
In an interview conducted after the fight, Golden Boy CEO Oscar De La Hoya responded when asked what was next for the twenty-five year old "Canelo" that he and Alvarez must sit down and analyze it.  It looks like Alvarez didn't struggle much to make 155 pounds and going back to the super welterweight division or 154 pounds might be a real option.  That would mean Alvarez would vacate the title he just captured on Saturday night.
It is no surprise Gennady Golovkin wants a piece of Alvarez. Not only does Alvarez hold the full-fledged title "GGG" needs to crown himself the undisputed middleweight champion.  Not only that but Alvarez also represents the biggest payday Golovkin can get in the near future.  Trouble is, Alvarez wants the fight under his conditions which means a catch weight.  Golovkin and his team have stated emphatically they will not fight Alvarez at any catch weight but that might change depending how many zeros are attached to that purse check.
So what happens if Alvarez goes down to 154 pounds?
Some of the names that have been thrown around are Timothy Bradley, Manny Pacquiao and Floyd Mayweather Jr.  None of those actually work.  Bradley looked tiny next to Brandon Rios in his last fight at welterweight so six pounds more might be enough for him to actually say no to the fight, Pacquiao must fight in April since he is running for a Filipino political office while De La Hoya stated "Canelo" will definitely be fighting on the coveted May date next year.  As far as Mayweather Jr, he says he is retired.  The weight, it would be imagined, would also be an issue.  In their 2012 fight, the catch weight was at 152 pounds but Alvarez has said he would never give anybody any advantage based on weight, he would take the advantage.
So where does that leave us, the boxing public?
If the PPV numbers being thrown around are true, close to 900K, don't be surprised if we see the rematch but at 154 pounds which gives the promoters a credible storyline.  The scores were too wide and the fight was much closer while the weight difference gave Alvarez an advantage so at 154 pounds it would be a more even playing field.
Will you buy into it?
---