The Mandalay Bay Casino, Las Vegas, NV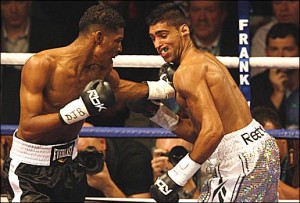 HBO
Danny Garcia (23-0) vs. Amir Khan (26-2)
Boxing360's Pick: This will be better than people think. When is Khan in boring fights? How about never? Garcia is also a fighter who can be hit on his way in but he doesn't let it deter him. We see a back and forth fight with Garcia having his moments late. But Khan's superior corner, experience and speed takes this by unanimous decision.
Upton Park, London, England
EPIX
David Haye (25-2) vs. Dereck Chisora (15-3)
Boxing360's pick: The fight of the weekend. We are having a tough time picking. Haye's speed and power against Chisora's crazy brave mindset and relentless style. Give me Haye in 9. Chisora will have his moments but its Haye's class that will show late.
The Palms Casino, Las Vegas, NV
Anthony Mundine (43-4) vs. Bronco McKart (54-9-1)
Boxing360's pick: McKart is no spring chicken. Neither is Mundine but nonetheless we like him in 6.
The Rivers Casino, Pittsburgh, PA
Lennox Allen (15-0-1) vs. Michael Walker (19-14-3)
Boxing360's Pick: This is a key developmental fight for Allen. The rounds Walker can give will be invaluable as Lennox begins to make a run towards a title. How Allen finishes will say where he is placed among contenders who came before him. We'll hold off on a prediction except to say Allen will win. The how is very important here.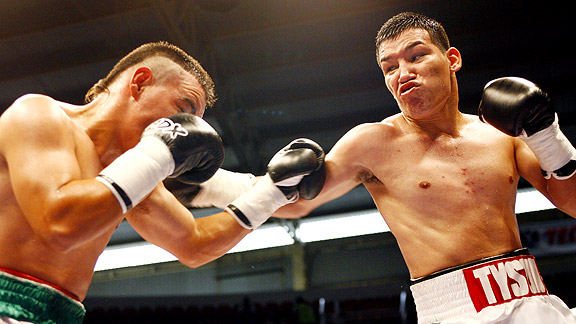 Palenque Ganadera, Culiacan, Mexico
Hernan Marquez (33-2) vs. Fernando Lumacad (26-3-3)
Boxing360's Pick: This is going to be fun while it lasts. But then, that is how "Tyson" Marquez fights go. The man is a wrecking crew who take his lumps to give his. We like Marquez in 8 in this stay busy fight.
---