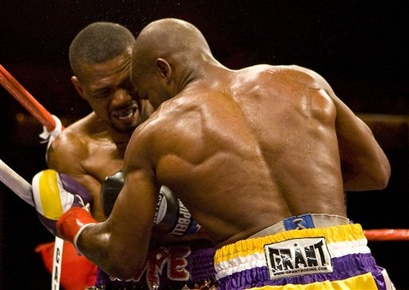 Last week we debated on if open scoring should be used in boxing. The overall feedback we got for the most part a resounding no. The majority felt that it would affect the flow of the fight a bit too much. The WBC actually announces the official scores after rounds 4 and 8 of some of their title fights. The positive side of this is that a fighter knowing he is behind on a scorecard will be much more aggressive. The downside is that a fighter ahead on a scorecard may play it safe in order to cruise to victory.
This week we turn to the topic of instant replay. It is used in major professional sports such as Basketball and Football. Boxing has used it but not fulltime. There has been so many circumstances where a missed call has caused a fighter a victory. It could be a knock down called or not called. A foul that was missed. The head-butt is a major one. Many times a referee gets blocked from the view of what those watching on television see clearly.
When Nate Campbell challenged world champion Timothy Bradley in 2009 the bout was stopped in round 3 due to a cut suffered by Campbell. Bradley was ruled the winner by TKO but Campbell immediately protested that the cut was caused by a Bradley head-butt. Replays supported what Campbell was saying. In a rare situation the local commission reversed the decision a few weeks later to a no contest. If instant replay was used at this fight a decision could have been made the very same night of the fight.
It's true that having replay could slow things down. There is no denying that. However, if it's going to get the right call the same night of the fight then it may be worth it. It could save a lot of time of an appeal that may not lead to the correct call being made. We want your feedback on this subject. Should instant replay be added fulltime in boxing like it is in other professional sports? Please let us know your reasoning either way.
---