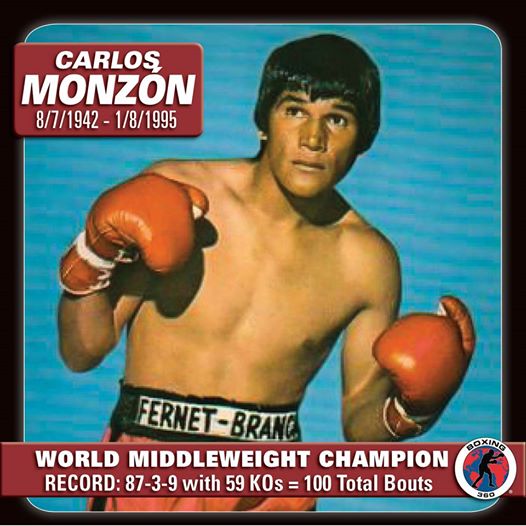 Boxing History: May 9, 1971 Carlos Monzon KO 3 Nino Benvenuti, Monte Carlo.
Retains World Middleweight Title.
Carlos Monzón (August 7, 1942 – January 8, 1995) was an Argentine professional boxer who held the Undisputed World Middleweight Championship for 7 years. He successfully defended his title 14 times and is widely regarded as one of the greatest boxers of all time. Inducted into the International Boxing Hall of Fame in 1990, he was chosen by The Ring magazine in 2002 as the 11th greatest fighter of the last 80 years.
Argentines adored Monzón throughout his career. His glamorous and violent life was avidly followed both by the media and Argentine people. He was, however, accused many times of domestic violence by his two wives and many mistresses and of beating paparazzi. Charged with killing his wife Alicia Muñiz in Mar del Plata in 1988,
According to the investigation performed later, he strangled her, picked her up and pushed her off the balcony, after which he followed her in the fall, injuring a shoulder. In 1989, he was found guilty of homicide. He received an 11-year prison sentence.
On January 1995, Monzón was given a weekend furlough while serving his term in Cárcel de Las Flores, Santa Fe Province, to visit his family and children. On January 8, 1995, when returning to jail after the weekend, he died instantly when his vehicle rolled over near Santa Rosa de Calchines.
Even in death, Monzón drew a crowd. Thousands sang "Dale campeón" ("Go Champ") during his funeral.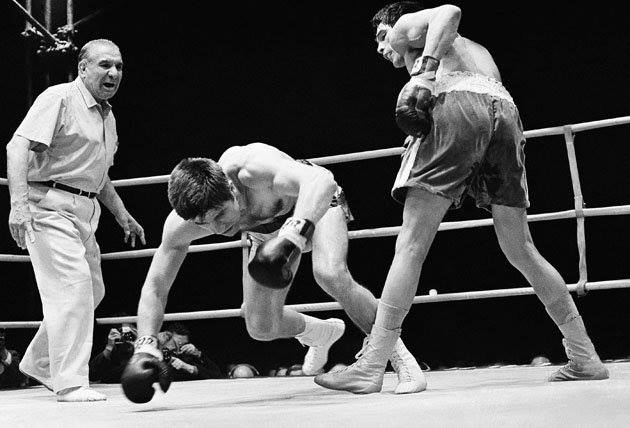 Nino Benvenuti hits the deck in a May 9, 1971, middleweight title fight with Carlos Monzon.
---