Boxing History: August 8, 1934 Sixto Escobar W 15 Eugene Huat, Montreal. Retains NBA Bantamweight Title.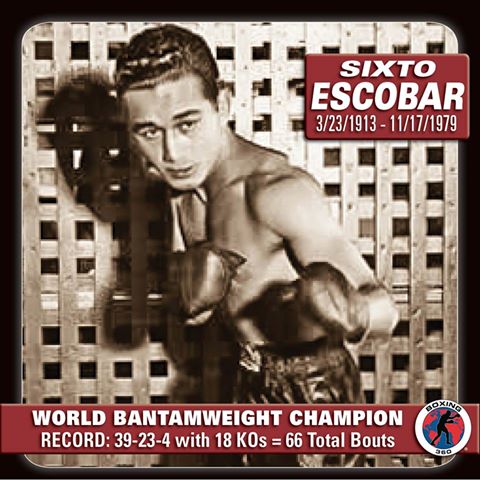 Sixto Escobar (March 23, 1913 – November 17, 1979) was a Puerto Rican professional boxer. Competing in the bantamweight division, he became Puerto Rico's first world champion.
Escobar was born in Barceloneta and raised in San Juan. After gathering a record of 21-1-1 as an amateur, Escobar debuted as a professional in 1931 defeating Luis "Kid Dominican" Pérez by knockout. Early in his career, he moved to Venezuela due to the lack of opponents in his division. Subsequently he moved to New York and began boxing in other states, eventually capturing the Montreal Athletic Commission World Bantamweight Title. In 1936, he defeated Tony Marino to unify this championship with the one recognized by the International Boxing Union, in the process becoming the third Latin American undisputed world boxing champion.
After his death, the town of Barceloneta honored his memory by a statue. Escobar became the first world boxing champion in history to have a statue in his honor.
On June 9, 2002, Escobar was inducted into the International Boxing Hall of Fame. He became the fourth Puerto Rican to receive this distinction and the first to be included in the "Old Timers" section. In March 2005, a second statue of Estobar was unveiled at the Estadio Sixto Escobar in San Juan.
People Inc. created a documentary covering his life. Several buildings and streets were named after Escobar posthumously, including the Auditorio Sixto Escobar. The house where he lived was later turned into a library and museum bearing his name.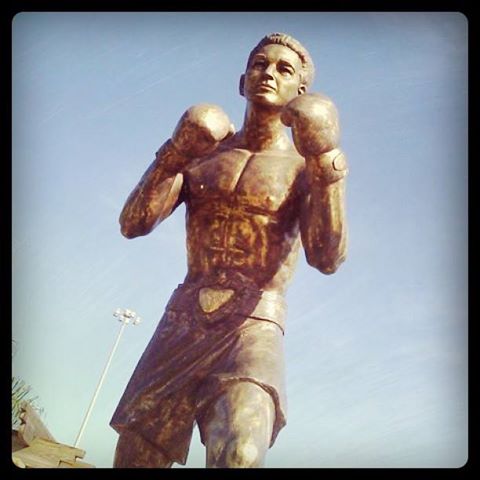 Statue of World Bantamweight Boxing Champion Sixto Escobar, located in front of Sixto Escobar Stadium in Old San Juan, Puerto Rico.
---