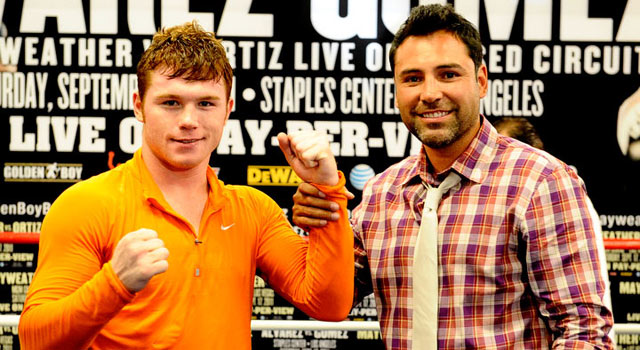 Last week an important and somewhat surprising announcement was made by Golden Boy Promotions' founder and now CEO Oscar De La Hoya.  In his statement to the press from the Los Angeles offices of his company De La Hoya announced that Golden Boy's star fighter, Saul "Canelo" Alvarez, will be returning the airwaves of the number one network for the sport of boxing, HBO.  The announcement was a small surprise to some since Alvarez has exclusively performed on Showtime for nearly two years while not for others since it is no secret that Oscar De La Hoya has been cozying up to not only Top Rank but HBO since the departure of Richard Schaefer.
With the departure of Schaefer and with many of Golden Boy's roster advised by Al Haymon, "Canelo" Alvarez has really jumped into the driver's seat in his relationship with Golden Boy, even more so that before when the goose that lays the golden eggs pretty much would do whatever he wants with his career.  He pushed for the Mayweather Jr fight when no one with an ounce of sense though he would win and after coming off that loss a year ago, he pushed his promoter to make all his fights this year PPV against less than deserving opposition.  With the hierarchy of the Golden Boy stable established, Alvarez decided to make an even bolder move.
Ever since earlier this year when De La Hoya took over the reins of the company he founded over ten years ago, the "Golden Boy" made it a point to announce that he would do everything in his power to close the gap between himself and his former promoter, Bob Arum of Top Rank, in hopes of ending the cold war which prevents many star making fights from happening.  Part of working with his old promoter was also getting in the good graces of his old network, HBO, where De La Hoya fought multiple times and helped each other to newfound heights.  One of the first steps was taken some weeks ago when it was announced the Bernard Hopkins vs Sergey Kovalev championship unification fight will be on HBO with Hopkins waiving the Golden Boy flag.  After that, it was time for Alvarez to make a move.
Ever since Alvarez hit the boxing big-time he has made it clear that he considers himself one of the sport's biggest stars.  He certainly is. Setting record box office numbers and establishing himself as a PPV factor, Alvarez is well on his way to becoming as a big as a star as himself and his handlers envision.  The next logical step was to get back on the network that actually has the biggest boxing audience and that is HBO.
Alvarez was featured in his first seven televised fights on HBO but after the whole Golden Boy outfit was jettisoned across the street to Showtime, Alvarez became even bigger with his fight vs Floyd Mayweather Jr and his PPV offers this year vs Alfredo Angulo and Erislandy Lara.  Now back on the network of "Championship Boxing" and "Boxing After Dark", Alvarez is scheduled for December 6th in Houston, TX, against an opponent to be named, more than likely Joshua Clottey.  This bout will not be on PPV.
---