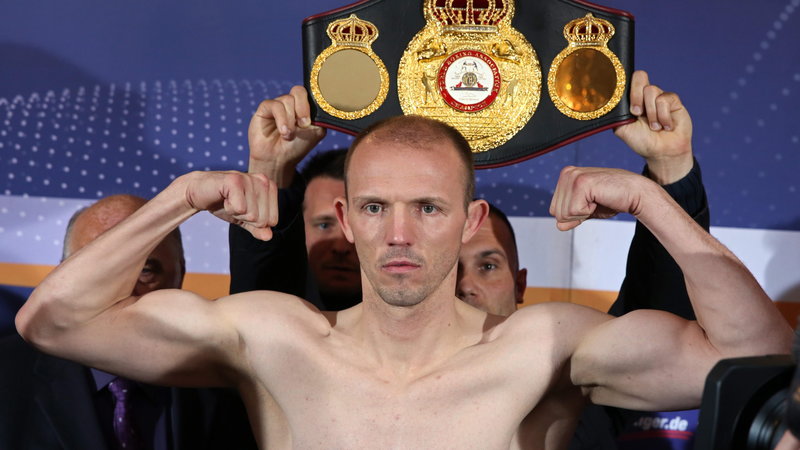 There has been much talk of an anticipated unification showdown between WBC champion Adonis Stevenson and IBF,WBA super champion &  WBO champion Sergey Kovalev. The fight doesn't seem any closer to being made now as it was a year ago. Meanwhile in Germany the local favorite and WBA regular light heavyweight champion Jurgen Brahmer (46-2, 34 KOs) quietly has defended his title 4 times in less than a year. That is very active for world champion. In fact Brahmer is on his second world title reign and has never lost a world title defense. He was stripped of his WBO title when he pulled out of defense on a few days notice with Nathan Clevery. Cleverly would end up being named champion by the WBO for Brahmer pulling out of their fight.
A major reason Brahmer is relatively unknown outside of Germany is because he has never had a professional fight outside Germany. Brahmer is 36 now and his career actually was setback to do troubles outside of the ring. To his credit he has been able to get his career back on track to become a two-time world champion. He is supported by the local fans in his native Germany who are known to support their local top fighters and especially world champions. It is truly an event when Brahmer fights as large venues are filled and the crowd really gets into his fights once the action begins.
If Brahmer is to get international acclaim and especially in the United States there are a few different ways to go about it. In recent past the task would have been a bit more difficult. One big reason is that Brahmer is signed by Sauerland promotions. It is said that with their local television deal having a world champion is very significant. Thus taking unnecessary risk with voluntary defenses outide of Germany isn't high on the priority list. Where things are a bit different now is there are ways now for european fighter's to be able to maintain their fights on live television locally and live on U.S. broadcast as well.  Powerful boxing advisor Al Haymon's Premier Boxing Champions (PBC) televised series which started this past March, now airs fights in the daytime as well as the evening local U.S. time. If there was a fight of interest then Brahmer could actually fight during the day in the U.S. with the fight being aired live locally in Germany. Haymon has had fighters from the United Kingdom just recently on the series where the time zone is similar to Germany's. Perhaps a major fight could happen in Germany and be aired live during the day in the U.S. It will be a matter of seeing if this is something that Brahmer and his promoter are seriously interested in. In the meantime there is talk of a showdown in the fall between Brahmer and ex-champ Cleverly. There is some unfinished business there. If the fight happens and Brahmer is successful then hopefully we will get to see him test his skills against some of the elite in the division.
---