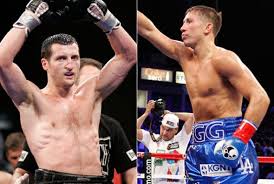 It has not even been two weeks since unified 160 pound world champion Gennady "GGG" Golovkin (33-0 , 30 KOs) last fought and already his next possible fight is being discussed. It has been reported by various media outlets that a showdown with he and United Kingdom (UK) based Carl "The Cobra" Froch (33-2, 24 KOs) is in serious negotiations. The proposed bout would be at 168 pounds max weight which is Froch's natural weight class. Wembley Stadium in the UK has been discussed as a possible venue to host the fight. Froch's last fight was there where he knocked out domestic rival George Groves in their rematch. There was a reported 80,000 in attendance for the event.
Froch already has a secured legacy but a win over Golovkin would elevate IT to another level. Golokvin is thought to be one of the most feared boxers out there. There are some interesting things that appear in Froch's favor in a fight with Golovkin. One statistic that stands out is that Froch has handed the first professional loss to some top notch fighters. Just recently it was George Groves. The rest of the list includes such names as Jean Pascal, Andre Dirrell, and Lucian Bute. Froch is the natural 168 pounder having fought in the division his entire career. He has faced his share of punchers over the years as well and has never been stopped inside the distance. Froch is also a proven fair puncher. This is important as it would force Golovkin to think twice about rushing in if there as a power threat. Froch has the edge in height and reach which could come into play as Froch showed in his decision win over hard punching Arthur Abraham fight that he has the ability to outbox an aggressive  opponent.  A real telling stat is that Froch  never lost in the UK in the pro ranks.
Golovkin dominated and stopped Willie Monroe Jr. This past Saturday in route to the 6th round stoppage. The talk by many post fight was how easy it was for Monroe Jr. to hit him. Golovkin said after the fight in so many words that he wanted to entertain the fans who had come out to support him. This may have been the case but it should be noted that Monroe Jr. was not even close to being a heavy puncher. A win over Froch pushes Golovkin's career to huge heights. It would be his biggest career win to date and versus a naturally bigger man. This would squash alot of negative talk regarding the opposition he has faced thus far.  His popularity is already growing strong in the U.S. and defeating Froch could broaden his international profile to immense heights in the UK region giving him even bigger options in the future.
There are no losers in a fight like this with lots of upside all away around. It does seem that Froch wants to end his career with a win. In the event that he lost, he could bounce back with rebound win should he want to retire that way. Golovkin could drop back down to 160 and continue on as normal if he were to lose. Both fighters would stand to make a large amount of money. Likely career high paydays for both giving the magnitude of the fight.  The biggest winners are the fans. They get to see two guys at the top of their professions who are known to perform at the elite level whenever they step inside the ring. That is really all one expects  when two of the best square off to fight.
---