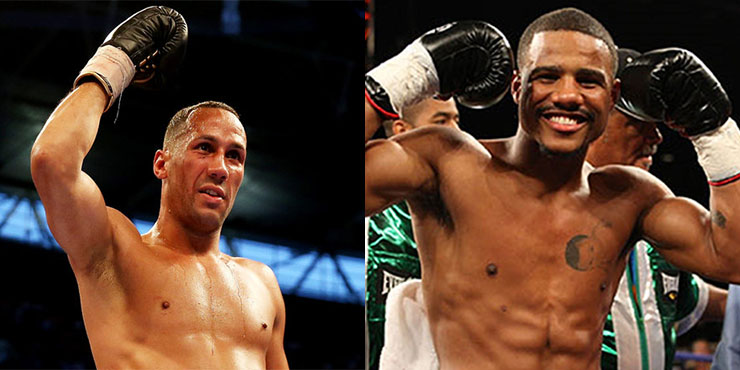 The super middleweight showdown between IBF #1 ranked James DeGale (20-1, 14 KOs) and former world title challenger IBF #2 ranked Andre Dirrell (24-1, 16 KOs) will take place May 23rd in Boston, Massachusetts. The vacant IBF world title will be at stake. Fans will be able to watch the bout televised live on NBC network.  Both fighters enter the bout coming off of dominating wins. Stateside Dirrell is the more known of the two fighters. He has fought on the premium networks in the U.S. for a number of years.  He decisively beat Derek Edwards this past December in his most recent bout live on Showtime.  DeGale became the first to stop former world title challenger Marco Antonio Periban in his last fight this past November.
DeGale is a former Olympic Gold Medalist winning it for Great Britain in 2008. This will be his first time fighting in the U.S. The only blemish on his record was questionable narrow points decision loss to domestic rival George Groves who was unbeaten at the time. Groves would go on to challenge Carl Froch twice for the world title losing in both attempts. De Gale has emerged now as the second best super middleweight in the UK behind Froch. Dirrell will be his toughest challenge to date but one he seems at the very least ready for at this stage of his career.
Dirrell is on his second go round in pursuit of a world title. He came up short the first time around dropping a split decision to Froch in 2009 in Froch's hometown. Many felt that Dirrell had done enough to win the fight and the title. Dirrell has picked up some steam over the last year and appears to be back in form.  He will now look to complete the feat he attempted 6 years ago. This time he will get the chance on U.S. territory.
There are a number of ways this fight can play out. Both guys are southpaws and can box extremely well. This may not appeal to the common fan but more so to those who enjoy the art of the sweet science. Each guy is like a mirror image of the other physically. There is likely going to be a respect factor early on with each being leary of getting caught with a solid punch. There is also the possibility that the fight could be the exact opposite. Dirrell has been fighting much differently of late from years past. He has been fighting much more aggressively. The same can be said of DeGale. His last three opponents had a combined record  58-2-2 and he became the first to stop all of them inside the distance. This is where the intrigue comes in to play. There really is no sure way of knowing how this will play out until May 23rd. It's fairly safe to assume that neither guy will want to leave any doubt that they did their absolute best at the bout's end.
---