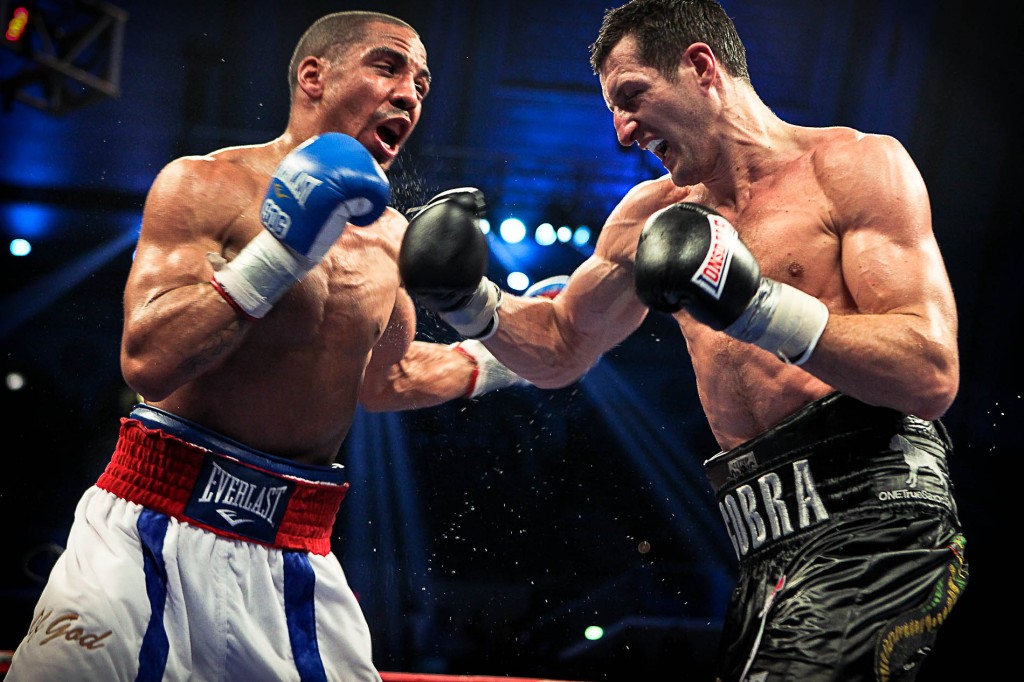 The WBA recently mandated that the sides of WBA "super" super middleweight champion Andre Ward (27-0, 14KOs) and "regular" super middleweight champion Carl Froch  (34-2, 24KOs) reach an agreement, and if none is reached the fight would be open to purse bid. Froch is represented by Matchroom boxing promotion. Ward recently was signed to Roc Nation Sports founded by famed rapper Shawn "Jay-Z" Carter.
Many upon hearing this news were not so thrilled. Not because of the WBA is enforcing the fight mind you. More because of what they say December 17, 2011. It was the Super Six Tournament Super Middleweight Final. Ward put on a career best performance decisively decisioning Froch over 12 rounds. Ward was much more aggressive and assertive than most fights. He really put to Froch. The bout was in the U.S. but  in the neutral site of Atlantic City, New Jersey. Arguably there were more fans in attendance from Froch's native Uk than Ward's hometown of Oakland, California. The British Judge, John Keane who had the widest margin of scoring actually seemed the most accurate with his 118-110. It was also discovered after the fight that Ward had injured his hand during the fight and actually fought and won the fight with only one good hand. Ward seemed on the brink of superstardom where Froch's career seemed uncertain.
It's going on 4 years since the two met that night and their careers couldn't have taken a more opposite course. Froch instead of Ward has had a major resurgence. About 6 months after losing to Ward he got a golden opportunity when unbeaten IBF Super Middleweight champion Lucian Bute decided to risk his title and unbeaten record on the road in Froch's hometown of Nottingham Arena, Nottingham, in Nottinghamshire, United Kingdom. The underdog Froch thrilled the locals with his 5th round TKO victory. Froch was back and in a big way. About a year later he would get a chance to avenge his first career loss against Mikell Kessler. Unlike the first fight which was on Kessler's turf in Denmark this fight was in the UK. Froch would go on to win an exciting well-earned decision over Kessler and the WBA world title as well. Less than two years after his loss to Ward he was now a unified champion. Ward followed up his Froch win with an exciting 10th round TKO of Light heavyweight champion Chad Dawson who came down in weight to challenge Ward. Ward wouldn't fight for a year after that decisioning unbeaten Edwin Rodriguez November 16, 2013 in a non-exciting but decisive win. That was Ward's last fight but with new promoter Roc Nation Sports he expects to become much more active.
In Froch's last fight an estimated crowd of 80,000 filled the famed Wembley Stadium, Wembley, in London, United Kingdom to see his rematch with George Groves. Froch had handed Groves his first career loss about 7 months earlier by way of a questionable 9th round stoppage by the referee in a very close fight where Groves had Froch down early. Froch erased all doubt with a devastating 8th round TKO of Groves. Those kind of numbers are unheard of in this age of boxing. Froch is very aware of this and will not be forced into fighting anyone let alone let someone else dictate the terms when he is the proven bigger selling ticket draw. He vacated his IBF title rather than being forced to fight mandatory James DeGeale in a domestic showdown. Though Groves won a close decision over De Geale earlier in their careers DeGeale's style is not the best for Froch. Nor is there much demand for the fight in the UK.  Ward with the backing of Roc Nation Sports could for sure compete to win a purse bid over Froch's promotion Matchroom Boxing. Ward has made it public that Froch would not dictate terms for a rematch. Ward has earned that right in the ring by beating Froch. The reality is that Ward is the A side guy in terms of the proven better fighter but Froch is the proven better A side draw. Froch is on top right now and his pride more than anything it seems thinks that a fight on his terms against Ward would translate into a victory. The reality is that Ward would still be heavily favored to defeat Froch again. Froch does not need titles at this stage of his career. Especially fighting in the UK. It does seem  important for him to go out on top as he appears to be winding down his pro career. Which is his right but if this is the case then he needs to steer clear of Ward.
---