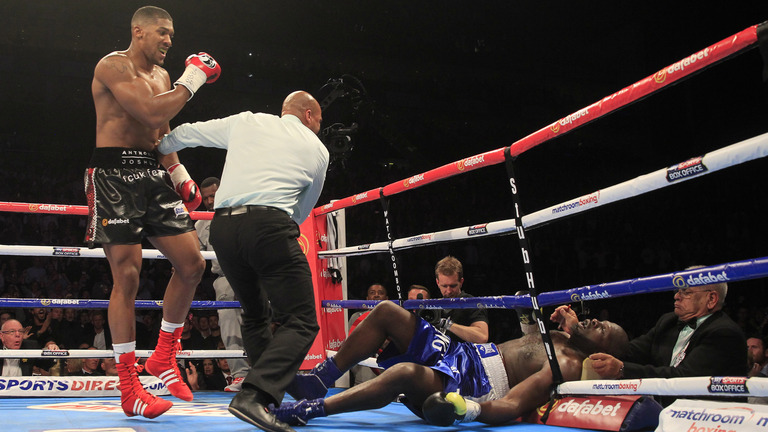 Unbeaten Anthony Joshua (13-0, 13 KOs) has officially put the heavyweight division on notice. This past Saturday Joshua became the first to stop former world title challenger Kevin Johnson inside the distance. It was a dazzling display of power by Joshua. There were three world title fights on the card but it was Joshua's stoppage of Johnson that understandably garnered the attention. It would have been one thing had Johnson quit in between rounds or an early stoppage by the referee had happened but Joshua knocked him out clean. In the very first round Joshua hurt Johnson with the first punch he really landed clean. Johnson tried to laugh it off like he wasn't hurt but the reaction of his body from the punch told the story. Then towards the end of the round Joshua dropped him. Johnson got up right away but this was no flash knockdown. He was hurt by the punch. Moments later he was down again and nearly fell out the ring as the bell sounded. His corner man assisted him getting to feet and back to the corner.   No one would have blamed Johnson if he didn't come out for round 2 but to his credit he did.  He managed to get through about half of round 2 when the referee correctly stopped the fight. Joshua was pounding Johnson against the ropes at the time of the stoppage.
The question immediately turned to what does Joshua do next. The dominance over Johnson could have the public wanting to him continue to step up. One name that was mentioned as a potential opponent was fellow UK fighter David Price. It wasn't long ago that the 6′ 8″ Price was even being thought of as a legitimate threat to Wladimir Klitskscho no less. That until of course was until he ran into former two time world title challenger Tony Thompson in 2013. The veteran Thompson is what many promoters feel is a serious test to see if their guy is ready for that next level. Price found out he was not as Thompson stopped him twice in back to back fights in less than a 6 month's span. Speaking of Thompson he is a name of interest as well. A potentially dangerous one at that. Thompson is actually a harder puncher than he gets credit for. One thing that we don't know as of yet is how good of a chin that Joshua has. Thompson could give us that answer. Thompson is a risky fight but a win inside the distance over Thompson would go far toward Joshua's credibility in the heavyweight division. A wildcard in the mix could be American and  former world title challenger Eddie Chambers who has been rebuilding his heavyweight career in the U.K.  It could be an interesting test for Joshua in terms of Chamber's elusiveness. The fight that would seem the most likely would be with domestic rival Derek Chisora. He is very good at hyping up fights. He only fights one way which is straight ahead. He is usually durable but may not last long with the heavy handed Joshua.
There are a lot of options for Joshua. He made a big impression this past weekend showing that he is more than a prospect. It may not be a far stretch to say he could actually beat a hand full of world ranked top 15 heavyweight fighters right now. It could be interesting to see if Joshua could land a fight with a heavyweight out of the Al Haymon advised fighter list. This way perhaps the U.S. fans could get a chance to see this fighter who seems primed for stardom and appearance on Haymon's Premier Boxing Champions (PBC) televised series would be valuable exposure. It's possible as three UK fighters have been successful in world title fights recently all against Haymon fighters on the series. A fourth UK fighter in a non-title fight dropped a decision to a Haymon fighter.  In any event Joshua seems to have the total package it seems. He speaks well, outstanding physique, and perhaps the most important. The knockout punch. Which can make him an instant international star.
---