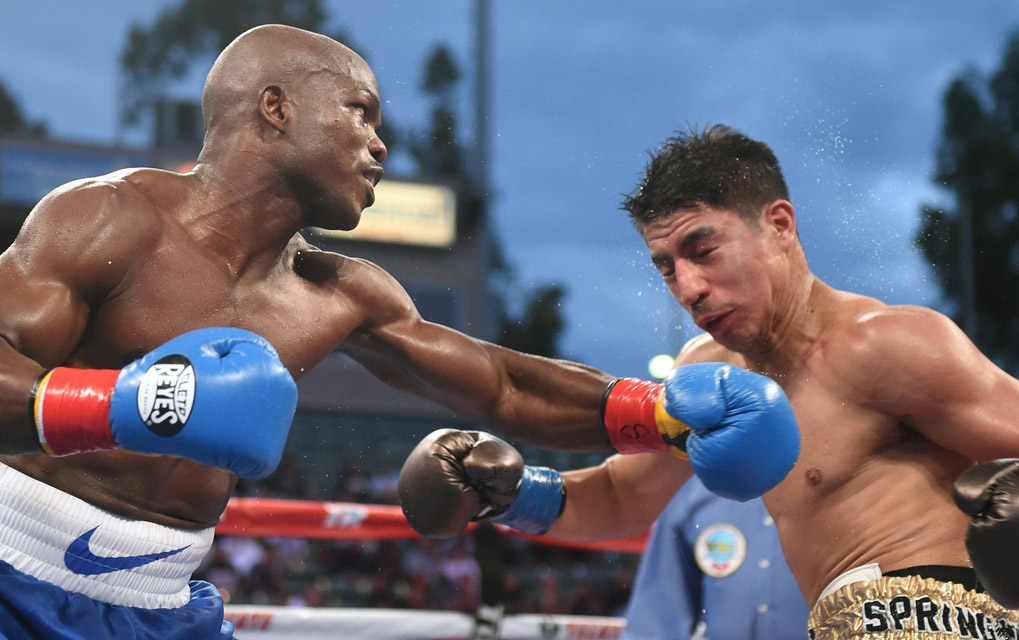 Former two-division world champion Timothy Bradley Jr. (32-1-1, 12KOs) clearly defeated unbeaten former world champion Jessie Vargas (26-1, 9 KOs) this past Saturday night by unanimous decision. It was Bradley's first win in his last three fights. There were questions entering the fight whether Bradley was still the same elite fighter as he was following his fight of the year in 2013 vs. Ruslan Provodnikov. The fight was an exciting fight for the fans but both fighters took their share of punishment in the fight. Vargas entered the fight unbeaten but looked less than stellar of late. This was a big step up in class for him.
Bradley from round looked to impose his will on Vargas. This was met with resistance by Vargas who stood his ground and countered well. This pattern continued for the first half of the fight. Bradley took control the second half of the fight.. The few moments that Vargas had seemed more because of what Bradley didn't do than what Vargas was doing. Entering round 12 everything seemed all but academic when with just seconds left in the fight Vargas landed an overhand right that almost sent Bradley to the canvas. Bradley to his credit remained upright but seemed a little shook up. Referee Pat Russell then heard what he thought was the final bell ending the fight and came in between the fighters and waved an end to the fight. Vargas thought Russell was stopping the fight and declaring him the TKO winner. The reality was Russell heard the 10 second warning bell and mistakenly took it for the final bell. Bradley seemed like he would have been able to get through those final few seconds were Vargas felt he was deprived of at least the chance to stop Bradley. It was an honest mistake by Russell. The fight was over and headed to the scorecards where the official judges had it all in favor to Bradley by Unanimous decision 116-112, 117-111, 115-112.
Bradley erased any doubt that he is still an elite fighter. He beat a very solid fighter in Vargas. It's fair to say that Vargas is a B fighter where Bradley showed that he is an A. Bradley is likely to return before the year is out. There are a number of good options that have a realistic possibility of happening. Brandon Rios like Bradley is signed by Top Rank. That would seem to be an easy fight to make between two Southern California based fighters. The Stubhub venue would appear ideal to host the fight if it were available. Juan Manuel Marquez is said to be coming back before the end of the year. He felt he defeated Bradley in their fight where he lost a split decision. Bradley won the WBO interim Welterweight title Saturday but if Floyd Mayweather Jr. opts to vacate the WBO absolute title then Bradley could be upgraded to full champion. Marquez has been eyeing his fifth weight class world title so this may make him want to fight Bradley that much more. Those are just a few options but Bradley more importantly answered the questions this past Saturday that he is back to the elite level he was a few years ago.
---