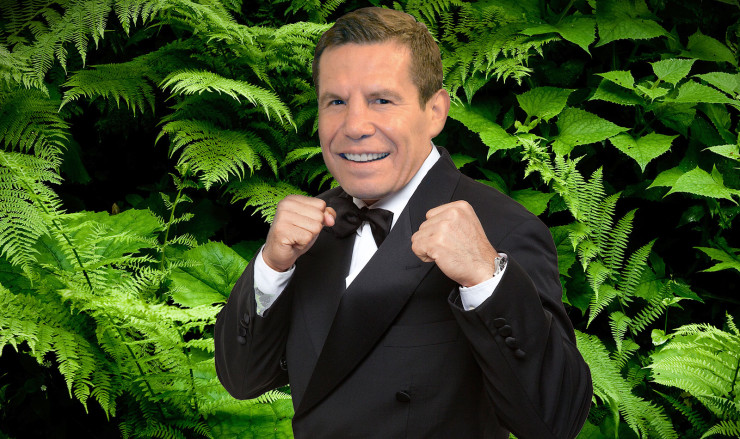 If somebody has ever been in hot water, it is Julio Cesar Chavez.  With the hot topic in Mexico and the United Sates being the re-capture of notorious drug trafficker Joaquin "Chapo" Guzman, Chavez was not spared as a very well-known Mexican newspaper released a column associating the Mexican legend with drug trafficking.  The column goes as far as to say Chavez at the height of his popularity was actually a money launderer for the Arellano Felix Cartel based out of Tijuana, Mexico, where Chavez lived and trained early on in his career and now has a rehabilitation center.
In case you don't know the personality of Chavez, just like in the ring where he didn't now the word quit, neither outside of it as he has proactively defended himself against these heavy accusations.   First he wrote an open letter asking the author of the column, Ricardo Aleman, to prove his accusations.  Then Chavez put out a video of a press conference he called where he admits being friends with not only the leader of the Arellano Felix Cartel but a number of known drug traffickers.  He's argument is that he is a man of the people, that these criminals are also boxing fans and that he doesn't deny a hello or a picture to anybody.  He also adds that if he isn't friendly with those outside the law, he would fear for his life and the life of his family.  That is why there are many photographs of Julio Cesar Chavez with the most known suppliers of illicit drugs to the United States including Joaquin "Chapo" Guzman.
So it is no secret that Chavez, his career and those that produce and export illegal substances to the biggest market in the world, the United States, have been intertwined for years.  So much so that back in 1995 Chavez even had a close brush with death.  As he was having lunch at a hotel restaurant in the Mexican state of Toluca, a couple of gun men killed former fighter Jesus "Bebe" Gallardo while Chavez excused himself from the table and visited the restroom.  Gallardo, best known as Chavez's sparring partner in the past, had retired and been in prison for drug-related charges.  Gallardo was the target of the assassination.  The killing made the national headlines but since the president protected Chavez at the time, his name was never mentioned as being present at that fatal lunch.
Gallardo wasn't the biggest name Chavez was close to in the world of the traffickers.  That name belonged to Francisco Arellano Felix, the head of the Tijuana Cartel back in the nineties. Originally from Chavez's hometown of Culiacan, it is not really known if they met there or in Tijuana where Chavez campaigned early in his career.  They were very close, so much so they would visit Mazatlan together after every Chavez victory to celebrate.  After a Catholic cardinal was killed in Guadalajara and the assassination was attributed to Arellano Felix, Chavez had to distance himself from his friend to keep his name relatively clean.  Arellano Felix was eventually caught and extradited to the United States where surprisingly he was only given six years in prison.  He was released in 2008.
No word if he and Chavez have rekindled their friendship but now those days have come back to haunt the Mexican legend.
---