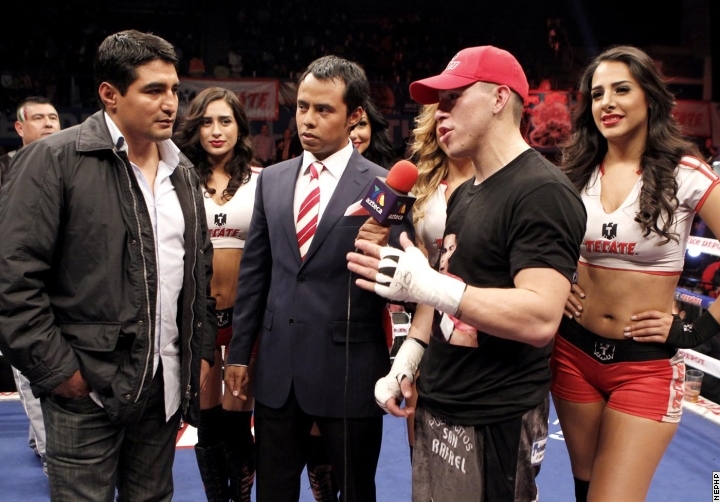 Mixed feelings welcomed the news that the legendary Tijuana four divisional world champion Erik "Terrible" Morales will climb into the ropes and into the squared circle for the sixty-second time as a professional on March twenty-second of this year against Jorge "Maromerito" Paez Jr in a twelve round welterweight contest.  No word yet if the bout will be for some type of title or a special attraction.  The bout will be presented by the biggest promoter in Latin America, Zanfer Promotions, and broadcast live in Mexico by the Azteca channel.
Morales, a champion in the super bantam, feather, super feather and light welterweight divisions, last strapped on the gloves in October 2012 when he was brutally stopped by current WBC/WBA champion Danny Garcia in four.  Prior to that, Morales gave the undefeated Garcia all he could handle, breaking the Philadelphia fighter's nose, for ten and half rounds before being dropped mid-way through the eleventh by a left hook.  Morales survived until the final bell but were on the losing end of a unanimous decision in Houston.
His opponent for his next fight, Paez Jr is the son of the legendary Mexicali fighter Jorge "Maromero" Paez.  Eleven years Morales' junior, Paez Jr is on a hot streak, defeating his last ten straight opponents, four in 2013, including Omar Chavez twice, once in 2011 and again in 2012, in two brutal beating.  Chavez is the youngest fighting son of the "Caesar of Boxing", Julio Cesar Chavez Sr.
After his aforementioned knockout loss to Morales, the Tijuana fighter announced in his post-fight interview with Jim Grey that his fighting days are over and would never fight north of the border again.  All he looked for ways to return to the ring for a couple of farewell fights in Mexico before hanging up the gloves for the second time in his career and waiting for the call from Canastota in five years' time.
Morales did not see action in all of 2013 as he partook in a Mexican TV boxing series, different business endeavors and other outside of boxing activities.  Morales did false start a couple of camps as he hinted a return near the end of last year but nothing concrete resulted.  It wasn't Paez's last fight when "Maromerito" defeated Colombian Ivan Hernandez inside of seven innings in his hometown of Mexicali with Morales on the sidelines.  Erik stepped up inside the ring after the fight and in an orchestrated act, officially challenged Paez Jr to a fight.
Unfortunately for Morales' fans, at this point in his career, this is a pick 'em fight.  Ten years ago or even three, Paez Jr would have no business inside the ring with Morales but to carry his jock strap.  Now, Morales is merely a shell of himself and a much bigger one at that.  Struggles with his weight, none more so than after his first retirement back in '07 after his loss to David Diaz, have become a signature problem for Morales who at that time ballooned up to close to two hundred pounds.  Since his return back in 2010, Morales' weight has not gone up so high between fights because he is neither the model of decorum.
Paez Jr, neither a saint himself when it comes to his weight or work ethic, has turned a new leaf since hooking up with Zanfer and has worked himself down to 140 lbs after fighting as high as 168 lbs back in 2009.
---