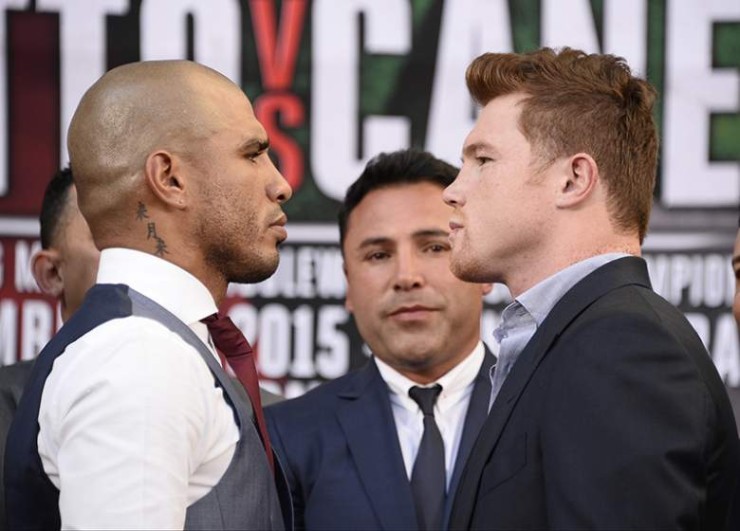 Boxing fans have short memories.  Here we are again at a major fight week.  It happens about two or three times a year.  The excitement starts on Monday and it simmers until Thursday when we have the final press conference and it begins to boil on Friday with the official weigh in with it finally exploding on Saturday night with the first bell.  The turn now for the mega fight is for WBC middleweight champion Miguel Cotto of Puerto Rico and Mexican super star Saul "Canelo" Alvarez who face each other for the title at the Mandalay Bay in Las Vegas, Nevada, on HBO Pay-Per-View.
The funny thing is, the buzz is just not as big as this fight deserves.
Let's forget about the Mayweather Jr vs. Berto last September which had no hype whatsoever even though it was promoted as Mayweather Jr's last fight.  Last month we had the anticipated match-up between Gennady Golovkin and David Lemieux but that was more of a fight fan's fight where you had a hard hitting eastern European fighter versus a Canadian.  So the last fight we really had some hype, one that built for five, years was last May when Floyd Mayweather Jr finally faced Manny Pacquiao in the biggest Pay-Per-View of all time.
This time we have the biggest rivalry in the sport, Mexico vs Puerto Rico, we have two of the biggest stars in boxing facing each other and we have a year that has not lived up to what it was supposed to be in fights. Showtime is pretty much off the map since Al Haymon and company went their own way and HB O took a big hiatus during the summer. Boxing fans are hungry for a good fight.  Mayweather Jr vs Pacquiao was actually just a money grab, "Money" vs Berto was a joke and "GGG" vs. Lemieux didn't provide the fireworks everybody wanted.
So why isn't Cotto vs. "Canelo" not hitting the mainstream more?
To start off, even though both fighters are not what you call charismatic.  Yeah, they are the biggest fighters as far as in popularity from their perspective countries but they aren't exactly Julio Cesar Chavez Sr or Felix "Tito" Trinidad when it comes to love from their country.  Miguel Cotto can be described surly at best and even a new comer like Felix Verdejo gets more love from the boricuas than Cotto who has been carrying the island for years.  As far as Alvarez, yes he is beloved by many Mexicans on both sides of the border but his rise to stardom has been dogged by many who believe he is a product of his handlers and the networks and not as good as everybody makes him to be.
De La Hoya and Roc Nation, who handle the career of Cotto, have gone on record and expect between 1.5 and two million buys.  That might be wishful thinking.  The network, with the help of the promoters who always share the cost, produced a 24/7 series and a Face-Off episode but it might not be enough to set the winner as the next Pay-Per-View star.
---