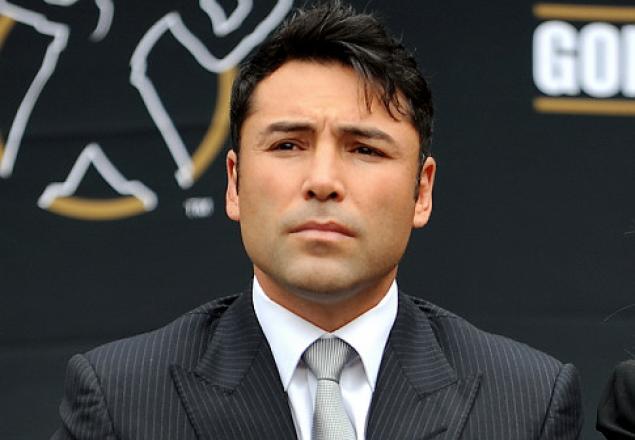 Just last week Oscar De La Hoya, boss of Golden Boy Promotions, was named promoter of the year by the most respected magazine in sports, Sports Illustrated.  It is quite an honor for a man that only truly took the reins of his company earlier this year even though the outfit has been in business for only a little more than ten years.
De La Hoya hired former Swiss banker Richard Schaefer in 2000 to help run his businesses under Golden Boy Enterprises but in 2003 he took over the CEO position for the newly founded Golden Boy Promotions.  From then Schaefer was the man in charge with De La Hoya as only the figure head.  As De La Hoya battled with his demons including a drug and alcohol addictions, Schaefer slowly but surely took more control of the company including lucratively aligning himself to up and coming advisor Al Haymon.  That proved to be his downfall.  When De La Hoya came out of his drug-infused haze last year he decided that his saving grace would be his first love, boxing, and his company that has become one of the two biggest in the sport.
Schaefer wasn't all too happy.
That prompted for Schaeffer to tender his resignation and enter a lawsuit against De La Hoya that is still pending.  From that point on, which was in early June, De La Hoya took the reins of the company and has not looked back since.
In a year that has not been the best for the sport as a whole, Golden Boy Promotions has proven to be a strong force this year.  One big move was to get some of their fighters on the biggest platform in the sport, HBO.  Banned from the channel since early 2013, De La Hoya successfully got Saul "Canelo" Alvarez back on HBO airwaves, at least on paper, with a signed agreement that has the Mexican super star performing on the cable network next year.  Bernard Hopkins, who made his name on HBO, was back on the channel in early November against one of their recent staples Sergey Kovalev.
Golden Boy Promotions had their hands on close to sixty boxing events this year including the two Mayweather vs Maidana bouts held in May and September.  Although not the promoter of the considered pound for pound king, Golden Boy Promotions was hired to cover the logistics for the "Money" Mayweather fights for a set fee.
By the looks of it De La Hoya has no plan in slowing down although he might not have Mayweather Jr on his side.  Along with "Canelo" Alvarez, De La Hoya has vowed to take back the May and September dates, traditionally held for Mexican fighters, back from Mayweather Jr.  Despite of that De La Hoya, like any respectable promoter, is playing both sides of the street as he is also actively pushing for the Mayweather Jr vs Pacquiao dream fight which logically could only be held on that date.
De La Hoya learns fast.
---