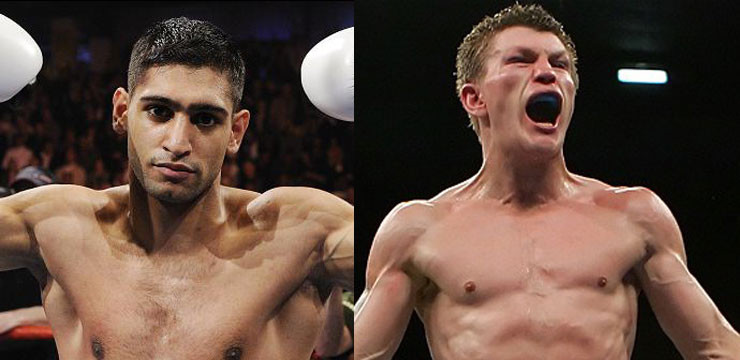 Our debate last week was who is most likely to replace Floyd Mayweather Jr. as boxing's next pay per view star. There are many talented fighters coming up but again this was strictly ppv drawing potential. The name that was mentioned most was that of Saul Alvarez. He is still in his early 20's and has already been part of a ppv record from his fight and lone career loss to date versus Mayweather Jr. a few years back. Alvarez also draws well with attendance with fans who will pay to see him fight consistently. There were a few other names mentioned but Alvarez was the overwhelming favorite to be the next megastar in boxing should Mayweather Jr. truly stay retired.
Many times in boxing fights for one reason or the other were not made. Sometimes it's because of fighters' prime eras just missing each other.  One such case of that would have been an interesting United Kingdom showdown between Amir Khan and Ricky Hatton. While Khan was making a name for himself representing Great Britain in the Olympics Hatton was selling out arenas with astounding attendance numbers. When Khan became a world champion for the first time Hatton already retired for the first time.
Hatton won his first 43 fights. He was a massive attendance draw with fans both in the UK and in the times he fought in the United States. His popularity during his time as a fighter is something that may not be seen anytime soon. Hatton also could fight. He was no hype job. He had incredibly quick feet which he didn't seem to get a lot of credit for. He could have easily never left the comforts of the UK but instead sought out the biggest fights in showdowns with Floyd Mayweather Jr. and Manny Pacquiao. Those fights resulted in two knockout losses for Hatton but doesn't take away from what he accomplished in his professional career.
Khan is no where near the attendance draw of Hatton but has a solid fan base none the less. Where Hatton went years without losing Khan suffered early setback losses that he has had to rebound from. This seems to have molded Khan into the fighter he is today. He really seems to have come into his own with Virgil Hunter as his trainer. He seems to be fighting much more consistent. He has won world titles in his career but ironically has not with Hunter but seems a much better fighter now.
Our debate this week is who would have won a fight between Hatton and Khan. The Ricky Hatton in this matchup would be the one who defeated Kostya Tszyu. Hatton was in his prime there it seemed. The Khan of today seems to be in his prime. Khan is fighting at 147 where Hatton was at 140 versus Tszyu but we will say they would have fought at 147. Please give us your take on who you think would have won this one.
---