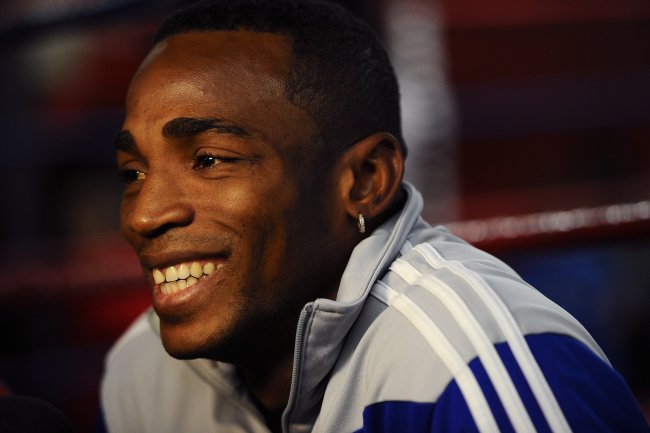 Despite his forty-three wins, thirty-one by knockout, Saul "Canelo" Alvarez of Guadalajara, Mexico, it probably wasn't until his performance this last weekend when he has finally convinced the boxing public that he belongs with the elite.  Despite former interim world champ Alfredo "Perro" Angulo perhaps being an old thirty-one year old slugger, Alvarez still looked worlds apart as he completely dominated the rugged Angulo with quick combinations and powerful punches to both the head and body of the Mexicali-born former Olympian.
Many boxing fans, bloggers and writers expected for Angulo to be a tough challenge for the twenty-three year old Alvarez especially after his great performance, despite losing, against the much more regarded Erislandy Lara.  Back in June of last year, Angulo with his high-pressured style but more cerebral advice from Virgil Hunter in the corner dropped Lara twice but still succumbed to a TKO loss after suffering a huge swelling of his left eye.  Just at it looked as if Angulo might be making the finishing touches and a tough win over the Cuban, "Perro" received one too many jabs to the eye which inexplicably forced him to give his back to Lara and awarding the win to the interim WBA world champ.
Days after his only pro loss at the fists of Floyd Mayweather Jr, "Canelo" announced that he was planning on fighting thrice on PPV in this 2014.  In interviews prior to his Angulo match up at the MGM Grand Arena in Las Vegas, Alvarez showed signs of reconsidering such a heavy schedule if his fight against Angulo proved to be tougher than anticipated.  As it turned out, Alvarez came out fairly unscathed in his ten round TKO victory and mentioned at the post-fight presser that he would like to perform again in July.
One that also made an appearance in front of the assembled media after the Alvarez-Angulo fight although not quite invited was none other than Erislandy "American Dream" Lara himself where he crashed the party and asked for the microphone to ask for a fight date against the biggest Golden Boy Promotions star on the roster.  Visibly disgruntled, Alvarez informed Lara that he was not interested in that type of negotiating and that he simply would have to wait.
For many there shouldn't be any waiting for Lara (19-1-2, 12KOs) who holds a win over former champion Austin Trout and a controversial loss to Paul Williams.  Lara is scheduled to defend his interim title against Ishe Smith on May 2nd and with a win there he is the most viable and available opponent for Alvarez for his July date.  Obviously many would like to see the red-headed one face Miguel Cotto, his first choice for this past Saturday, but the Puerto Rican opted to go for glory and face Sergio Martinez for the opportunity for his fourth title in as many divisions.
That leaves Lara and another true test for Alvarez who if he is to become the bonafide star which Golden Boy, Showtime and Mexican network Televisa have been selling us for months  is one that he would have to pass with flying colors.
---