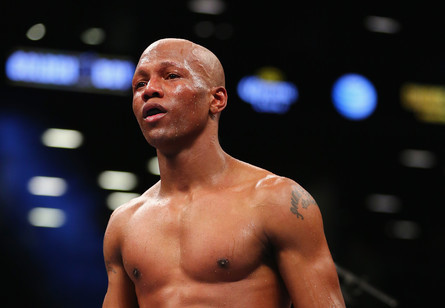 Former multi-divisional world champion Zab Judah (42-9, 29 KOs) of Brooklyn New York continues on his with his career this Saturday. This will be his 20th year as a professional that begin back in September of 1996. The 38 year old veteran will face Josh Torres (15-4-2, 7KOs) of New Mexico. The bout will take place at the Downtown Las Vegas Events Center in Las Vegas, Nevada. The show will be promoted by Roy Englebrecht (Roy Englebrecht Events), John Andersen (Neon Star Entertainment) and aired on CBS Sports Network.
Judah Last fought in 2013. He fought twice that year and both were losses. The first was against then world champion unbeaten Danny Garcia. Judah was knocked down in the bout but got up. He showed a lot of heart in route to dropping a competitive and respectable decision to Garcia. The second fight was a long awaited Brooklyn showdown with former world champion Paulie Malignaggi. Judah got off to a good start dropping Malignaggi in round 2 but Malinaggi dominated Judah the second half of the fight by outworking him. Judah did not look good at all on this night which should be credited to Malignaggi and his underrated work rate.
Judah will drop back down to 140 where he won his first world title back in 2000. He also won his last world title in 2011 at 140 as well. The divisions' top names and world champions are Terrance Crawford, Adrian Broner, and Viktor Postol. Judah still has a name and respectable records. He could easily be in the world title hunt against any of these guys within a few fights. The question now will be does he still have won more world title victory inside of him. Should he get himself back in to the world title picture we very well may get an opportunity find out the answer to this question.
---