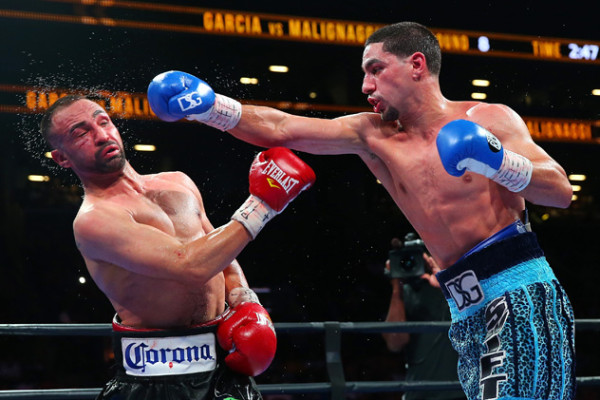 Former world unified 140 pound champion Danny "Swift"  Garcia (31-0, 18KOs) successfully made his welterweight debut as expected this past Saturday night. He stopped former two-division world champion and local favorite Paulie Malignaggi (33-7, 7KOs) in round 9. The main event bout took place at Barclays Center, in Brooklyn, New York. ESPN aired the fight live.
Physically you could tell right away that Garcia was much bigger than Malignaggi. Garcia was the one moving up but it should be mentioned that Malignaggi originally himself had moved up from 140 himself some years earlier. Critics may say that Garcia didn't fight a top guy in the welterweight division which is correct but he did what he was supposed to do. He systematically and patiently broke down Malignaggi. It seemed to be the right fight  to get his feet wet in his new division.
There already has been a number of high profile names that have been mentioned for future fights for Garcia. The good news is that there are a number of very makeable fights. Garcia's advisor Al Haymon has a number of the division's top guys signed. The question is does Garcia take a gradual step up or right into a high profile fight with one of the division's top guys. A fight with former world champion Robert Guerrero would be a decent test for Garcia. Guerrero like Garcia is represented by Haymon. Guerrero is well known for his toughness but has had a rough time of it his last few fights. Many times in boxing smart matchmaking is very important. Guerrero still has a respectable name. The timing couldn't be better for Garcia to face Guerrero before the end of 2015.
If Garcia is to take the harder route there is no shortage of high profile fights. Two names that jump right out are that of unbeaten WBA welterweight champion Keith Thurman and once beaten former world champion Shawn Porter. Both fighters would be extremely tough fights for Garcia and both advised by Haymon. He would be the underdog against Thurman and maybe even Porter. Garcia has had his share of critics who feel that he should not have that 0 in his loss column on his record. A  clear victory over a Porter or Thurman would not only silence some doubters but elevate Garcia closer to elite status as a fighter.
---