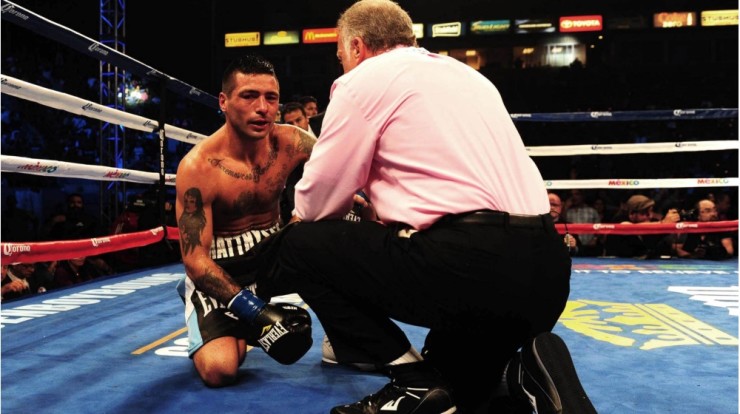 Our debate last week was on the opinion of our followers regarding professional boxers being allowed to participate in this year's Olympics. The biggest concern is safety. The thought of some of this top level professionals fighting lesser experienced amateur young men worry many. The other thing is many feel this will make it an unleveled playing field in many matchups. Those who are in favor state that Cuban and the old soviet union amateur programs dominated amateur boxing for a number of years. The majority of their fighters never turned pro but seemed to be at a major advantage against other countries when competing in boxing with many of their fighters seeming to be seasoned veterans fighting less experienced young men. The overall feedback we got from our followers was that they were not in favor.
Lucas Matthysse made his U.S. debut in 2010 as an unknown unbeaten puncher from Argentina against former multi divisional world champion Zab Judah. Matthysse entered the bout with all but one of his 28 fights ending inside the distance. The bout was also a world title eliminator. Judah got off to a fast start but Matthysse came on strong late in the fight even dropping Judah. In the end it was Judah who escaped with a narrow decision victory. A few fights later Matthysse would fight former world champion Devon Alexander in the latter's hometown. Matthysse dropped Alexander but again found himself on the end of a tight decision loss.
Matthysse would have his successes over the years following becoming the first to stop former world champions Humberto Soto and Lamont Peterson. His wins over John Molina and Ruslan Provodnikov were considered fights of the year by many. Unfortunately these victories were overshadowed by some with his world title losses to Danny Garcia and Viktor Postol. Matthysee was favored entering both the Garcia and Postol bouts. Some felt that Matthysee even quit in his fight with Postol.
There were recent rumors reported on social medias that Matthusee no longer has the passion or desire for boxing that he once had. This is quite alarming if true as this seemed to have him on the brink of some big victories and in some situations showed in his victories. Are debate of the week is whether Matthysse should continue on with his boxing career. Please give us your feedback.
---