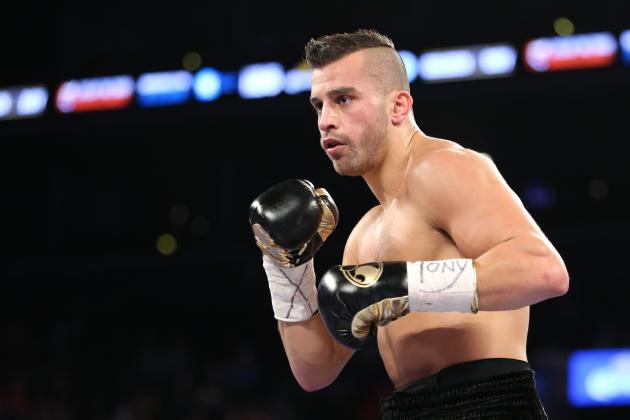 Former world champion David Lemieux (34-3, 31 KOs) of Montreal, Canada returns to the ring this Saturday. It will be his first fight since his failed unification loss attempt against unbeaten world champion Gennady Golovkin this past October in the famed Madison Square Garden in New York. Lemieux will take on upset minded James De La Rosa (23-3, 13KOs) of Texas. The 10 round main event bout will take place at the Olympia Theatre, in Lemieux's native Montreal, Quebec, Canada. The show will be promoted by Camille Estephan (Eye of the Tiger Management).
Lemieux's last fight in his native Montreal was in June of last year. He decisively defeated former world champion Hassan N'Dam N'Jikam to win the vacant IBF middleweight world title. It was without a doubt the biggest win in Lemieux's professional career. Lemieux could have settled for an easier challenge in his first defense but instead seeked out the divisions number one guy in Golovkin. He was unsuccessful as previously mentioned and lost his title as well. It was a punishing loss physically and mentally but after a proper rest Lemieux looks to get back on track versus De La Rosa.
Lemieux should not take De La Rosa lightly has he has fought and defeated some solid competition. His last notable win was an upset of former champion Alfredo Angulo in 2014. De La Rosa did not fight at all in 2015 which could be a negative or a positive depending on how you look at it. Negative because of the inactivity or positive because of a possible needed rest. De La Rosa is not a runner which could play right in the hands of the heavy handed Lemieux. De La Rosa also has decent power but this was at the 154 pound weight class. We shall see if he brings this up to the 160 pound weight class against someone of the level of a Lemieux.
Knockouts can be tough to come back from. Especially suffering one on the biggest stage like Lemieux did versus Golovkin. De La Rosa appears to be the right opponent for Lemieux being a naturally smaller opponent. This was the thinking as well when some years back Lemieux fought former world champion Joachim Alcine following Lemieux's first career loss to Marco Rubio. Alcine a natural smaller man defeated Lemieux by decision no less. Lemieux will show us on Saturday if he is at least ready to move forward to get back in to work contention again
---