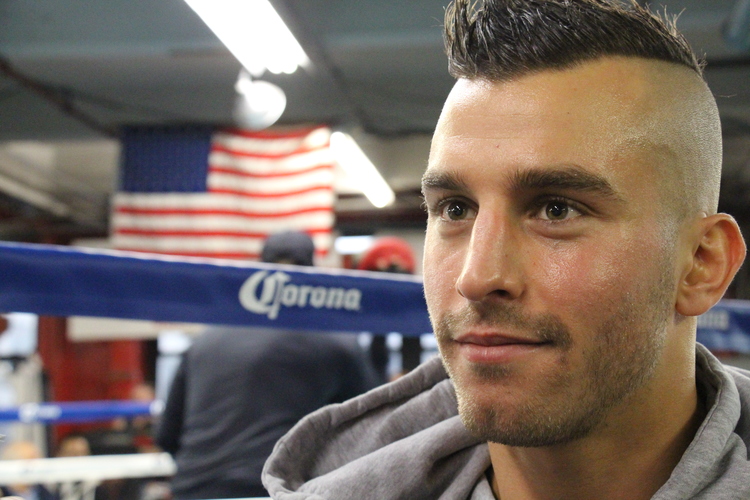 Highly world ranked David Lemieux  (33-2, 31 KOs) of Montreal, Quebec, Canada will finally get his long awaited world title shot. Lemieux will meet former world champion Hassan N'Dam  (31-1, 18 KOs) of France for the vacant IBF middleweight title. The IBF held a purse bid earlier this week which Lemieux's promoter Golden Boy won.  Hassan N'Dam's promoter, Michael King did not bid nor did any other promoter. Lemieux recently left long time promoter Yvon Michel who is said to be suing for breach of contract but if paid back what he feels is proper would not look to stop Lemieux from fighting.
Four years ago Lemieux appeared to be the next big thing to come out of Canada. It was rumored that a major premium network channel was interested in having him fighting regularly on their air.  His clean cut looks combined with his knockout punching power made him appear to be a can't miss with the viewers. Then it happened. Lemieux was being showcased in the main event on ESPN2 Friday Night Fights. His opponent would be former world title challenger & Mexican veteran Marco Antonio Rubio (49-5-1, 42 KOs). The bout was scheduled for 12 rounds and was a WBC world title eliminator. Rubio was a step up for Lemieux but he would be fighting in front of a large home crowd at the Bell Centre, in Montreal, Quebec, Canada. Lemieux entered the fight as a 8/1 favorite per some odds makers. Through the first 5 rounds the odds seemed appropriate as Lemieux controlled the action. Then in round 6 he was hurt by Rubio and went on the defensive. In round 7 Lemieux was dropped. He was able to make it to his feet but a barrage of punches by Rubio followed and Lemieux's corner had seen enough and signaled for the fight to be stopped. It was a devastating setback for Lemieux but unfortunately there was still more disappointment headed his way.  8 months after the Rubio disaster Lemieux returned back to the very same ring and venue. He would take on promotional stable mate and former world champion Joachime Alcine in a domestic showdown. Alcine was moving up in weight 6 pounds from the junior middleweight division. He was also coming off of a devastating 1st round knockout loss to Alfredo Angulo on HBO.   Alcine also is not a big puncher.  So on paper at least he seemed to be the right fight. Alcine proved that theory wrong and outworked Lemieux over the better part of 12 rounds to win a majority decision. The vaunted power of Lemieux was never a factor in the fight. It was the second consecutive loss for Lemieux and at 22 years of age his career had alot of question marks for the future.
Lemieux would return about 6 months later against much lesser opposition. This pattern would continue for the better part of the next two years. In May 2014 he would step up in competition and face Fernando Guerrero. Lemieux dominated Guerrero in route to the third round KO victory. Lemieux impressively stopped veteran Gabriel Rosado in his last fight this past December. It was his U.S. debut and his first fight outside of Montreal, Canada. The fight was televised live on HBO. Shortly afterwards it was announced that Lemieux had signed an exclusive promotional contract with Golden Boy promotions.
There is no date yet for the Lemieux-N'Dam bout but a summer showdown seems like a possibility. N'Dam is a very effective mobile fighter who can stop on a dime and deliver rapid combinations . It will not be an easy matchup for Lemieux. N'Dam  was dropped 6 times by Peter Quillin to whom he lost his world title in 2012 by unanimous decision. Ironically in between all the knockdowns he actually had alot of good moments in the fight. It will be up to Lemieux to solve the puzzle of cornering N'Dam long
enough to either stop him or build up enough points to decision him. N'Dam is a fair puncher as well so Lemieux cannot be wreckless defensively. It has taken Lemieux along to time to get to this point. He is still just 26 years old and in his primed and best years. He will for sure bring his best effort  when he enters the ring for this fight.
---