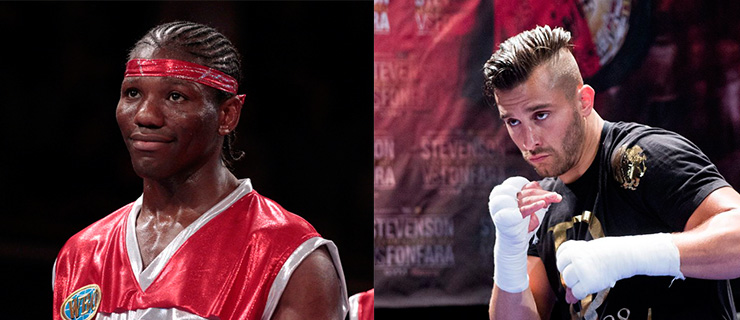 This Saturday's IBF middleweight world title fight between David Lemieux (30-1, 18 KOs) and former world champion Hassan N'Dam N'Jikam (33-2, 31 KOs) seems evenly matched. The slight advantage it would seem to be for Lemieux with the fight landing in his hometown of Montreal,Canada. This gets overlooked a bit because both of Lemieux's losses on his record have happened there by decision and knockout. Some of the sportbooks have this fight as a pick'em fight. A breakdown of the fight has this foresight of the bout looking that way.
Lemieux has the advantage it would appear with power. This is questionable because there really is no way to determine until fight time who will be able to take the other's power. N'Jikam will for sure be the most athletic opponent that Lemieux has fought as a professional. The edge on chins is questionable because both guys have shown on occasions that they are vulnerable in that area.
Both guys are coming off of solid wins. You could say Lemieux was more impressive stopping Gabriel Rosado within the distance. Rosado had some moments in the fight but was unable to sustain it for any long stretches in the fight. N'Jikam dominated Curtis Stevens in route to a unanimous decision win. He also dropped Stevens in the fight showing that he can punch as well.
It would seem as if the fight would play out with N'Jikam being the mover and will simply be looking to outbox the power punching Lemieux. This may not end up being the case. N'Jikam can stop on the drop of a dime and land some serious powerful combinations. He showed this in his fights versus Peter Quillen and Stevens. He is not just a traditional stick and move fighter. This could force Lemieux to have to focus a bit more on defense which has never been a strength of his. N'Jikam was down 6 times in his fight with Quillen. Lemieux is as big a puncher as Quillen if not bigger so it wouldn't be so surprising to see him drop N'Jikam. It would be interesting to see how Lemieux would respond to see N'Jikam get up from a knockdown and come back firing like he did with Quillen. N'Jikam has unbelievable stamina where Lemieux's has been questionable at times. Neither guy seems to have a clear edge on the other leading one to think we're in for a very competitive action fight on Saturday.
---