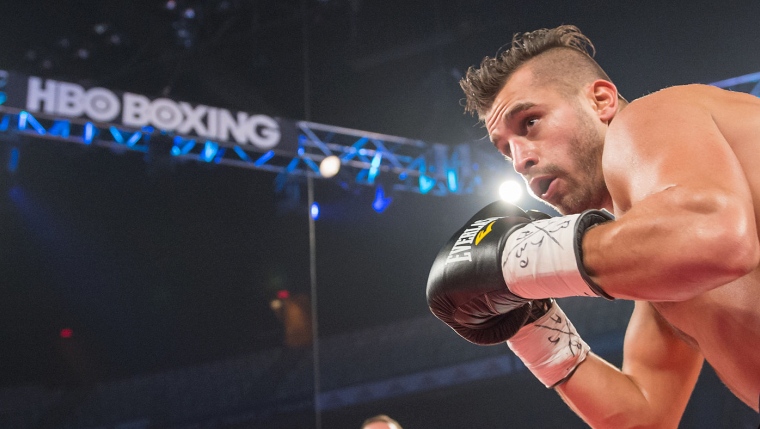 With an impressive over the top performance, newly crowned IBF middleweight champion David Lemieux put his name on the top of the list to face the most feared fighter in boxing Gennady "GGG" Golovkin. On Saturday night, Lemieux sent former title challenger Hassan N'Dam N'Jikam to the canvas four times en route to a lopsided unanimous decision and with it the vacant 160-pound title. N'Dam went down once in the second and seventh and twice in the fifth. Despite of looking hurt every time, N'Dam The fight took place at Bell Centre in Montreal with a star studded audience including WBC light heavyweight champion Adonis Stevenson, Bernard Hopkins and Oscar De La Hoya who promotes Lemieux. No, the fight card was not broadcast on either Showtime, which they wouldn't since Lemieux is with Golden Boy, or HBO but on Fox Sports 2 and its Spanish-language equivalent Fox Deportes. Despite competing with the Porter vs Broner on terrestrial NBC and the return of Andre Ward after nearly two years on BET, Lemieux-N'Dam was considered, and rightly so, the best fight of Saturday night.
The logical next opponent for Lemieux is the aforementioned Golovkin but it might not make financial sense. It is not secret that Golovkin has been looking for that name fighter that he could face so that he can finally put his foot into the PPV pool. No matter how many fireworks the fight would produce between the hard charging Lemieux and the equally as hard hitting Golovkin, the American public is not ready to pay north of fifty dollars to watch a Canadian and a man from Kazakhstan duke it out.
So who does that leave?
Well, none other than the flagship fighter of Golden Boy Promotions, Saul "Canelo" Alvarez. Alvarez has proven that he is formidable "B" side fighter in a major PPV event like he was with Floyd Mayweather Jr, the second highest selling Pay-Per-View of all time, and a respectable "A" side when he fought Alfredo "Perro" Angulo and Erislandy Lara. Those numbers weren't off the charts but they proved a good start for the twenty-four year old.
Alvarez has been tapped as the next boxing superstar, young, good looking, Mexican and with a popular fighting style, he has the backing of not only the Golden Boy himself but also the biggest network in the sport, HBO. What he needs is formidable opponents to lift his name even higher and take it to the mainstream. A fight against Miguel Cotto is in the works and one against Golovkin might not be but why not face the next best thing when it comes to dangerous opponents? Alvarez has already proven that he can take a high charging slugger in James Kirkland so why not Lemieux?
Alvarez might be able to finish him off as quickly as he did Kirkland in his last fight but with a win over Cotto and Lemieux, preferably on PPV, might give him enough confidence and experience to take on the bogeyman known as Golovkin.
---