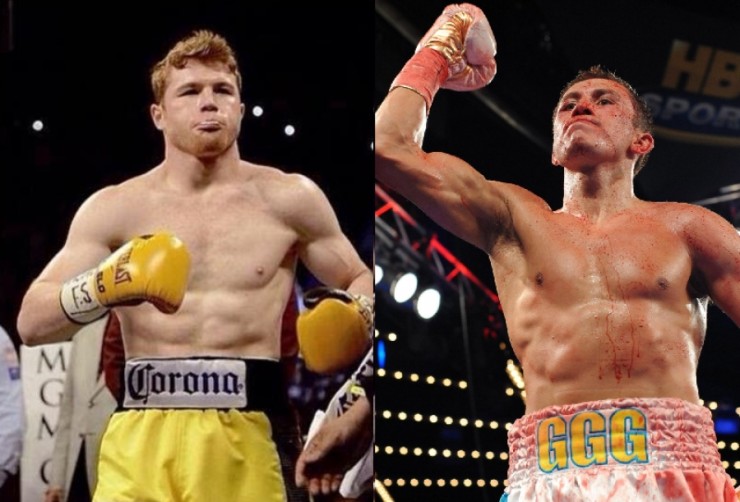 We chose the topic last week of the 2015 upset of the year as the debate. We made it quite clear that a more high profile fight didn't necessarily beat out a fight that wasn't fought on a major stage. It's more the quality of the fighter who was upset. We gave a few examples with the option of our followers to add their own fight. If you go by the numeric odds the biggest upset was Aron Martinez defeating Devon Alexander. Martinez entered the fight placed as a 50 to 1 underdog by some sportsbooks. Our followers opted for the more high profile fight where Tyson Fury upset Wlad Klitschko for the unified heavyweight championships of the world. Fury was an underdog as well but nowhere near those odds of Martinez. It was still a huge upset where very few boxing experts publicly gave Fury a chance to win.
When Saul "Canelo" Alvarez defeated Miguel Cotto last month he won the WBC world middleweight title. He also inherited the pound for pound recognized middleweight crown that Cotto held. It didn't take long for the focus to shift to a showdown between Alvarez and fellow middleweight titlist Gennady "GGG"  Golovkin. Both fighters have publicly stated that they would like to face each other but the question was would it be sooner or later. Alvarez and his side could find themselves in a tough predicament. He is the recognized champ but he has not even really fought at the 160 pound weight limit. His fight with Cotto was a contracted weight below 160. Cotto himself weighed in less than the 154 pound weight limit a full weight class below to put this in perspective.
Many want to see this fight but want a fight with no advantages balanced in the favor of either guy. A legitimate 160 pound fight with no catchweight limit. Weight could be a factor in this in more ways than one. Golovkin has been fighting at 160 pounds for his entire career practically. Canelo looked very good against Kirkland and Cotto but neither were true middleweights. It would be fair for Canelo to settle into the weight by fighting a legitimate 160 pounder. Our debate this week is whether you would rather see Alvarez and Golovkin fight next or a little later. Please give us your feedback.
---