Boxing History: August 6, 1894 Light Heavyweight Champion Harry Greb was born!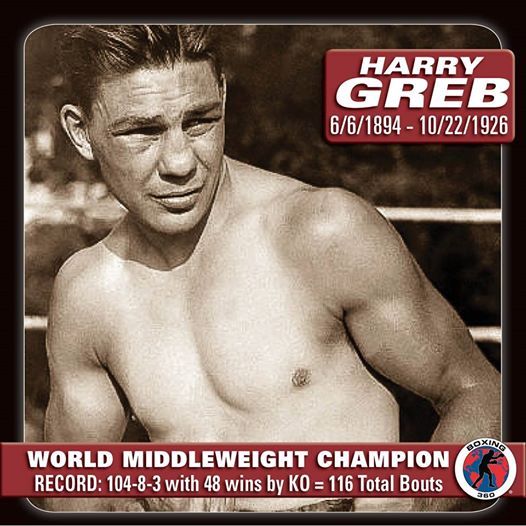 Nicknamed "The Pittsburgh Windmill", Harry Greb had a remarkable career, finishing with over 200 total bouts. In 1913 he had been laying tin roofs in Pittsburgh for $12 a week, thinking he was making good money. By 1917 he reportedly was making $33,000 a year in the ring. Nov. 6, 1917 Tacoma Times.
Widely considered one of the best fighters of all time, Greb was named the 7th greatest fighter of the past 80 years by The Ring Magazine, the 5th greatest fighter of all-time by historian Bert Sugar and ranked as the #1 middleweight and the #2 pound-for-pound fighter of all-time by the International Boxing Research Organization. Statistical boxing website BoxRec lists Greb as the #3 ranked middleweight of all-time and the 8th greatest pound-for-pound fighter ever.
Greb had a highly aggressive, very fast, swarming style of fighting and buried his opponents under a blizzard of punches. He was also a master at dirty fighting and had no qualms about employing all manner of dubious tactics, such as spinning his opponent and using the heel and laces of his gloves. Greb often got as much as he gave and unbeknownst to the press continued to fight a number of matches even as he became blind in one eye, due to an injury suffered in an earlier match.
Harry Greb, was seriously injured in 1925 when his automobile overturned a few miles from this New York city.
Greb died in Atlantic City, New Jersey, USA, October 22, 1926 at the young age of 32 from complications following eye surgery.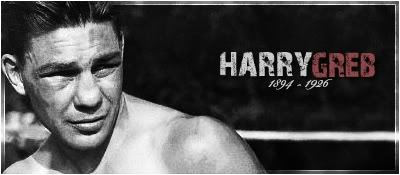 ---