Boxing History: November 30, 1922 Mike O'Dowd DQ 8 Dave Rosenberg, Clermont Avenue Rink, Brooklyn, New York, USA. referee: Patsy Haley Wins New York World Middleweight Title.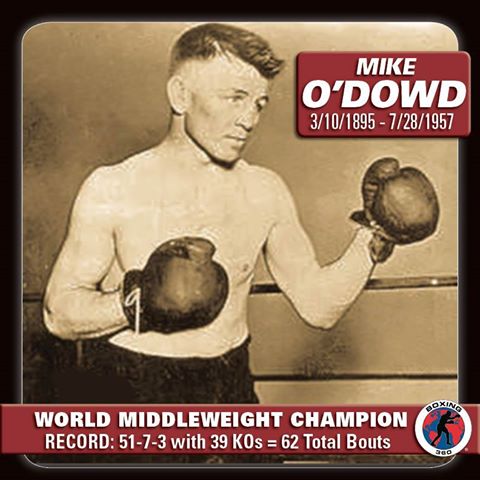 Mike "St. Paul Cyclone" O'Dowd (April 5, 1895 in St. Paul, Minnesota – July 28, 1957) was the Middleweight Champion of the World from 1917 to 1920. O'Dowd was slippery and very difficult to hit with a solid punch; he won the title on November 14, 1917 by knocking out Al McCoy in the sixth round. O'Dowd was knocked out just once in his career, his last fight on March 16, 1923.
O'Dowd was the only world's champion to fight at the front during World War I (1918, while serving in the U.S. Army).
He is also supposed to have fought seven times in 1913, as follows: Mike Brown (in Superior WI), W ko 1; Al Johnson, W ko 1; Harry Olson, W ko 1; Harry Gardner, W ko 4; Al Johnson (in St. Paul MN), W Points 6; Jack Pleunbush, W ko 2; Charley Fuhrman, W ko 2.
Managers Mike McNulty, Jack Reddy, Paddy Mullins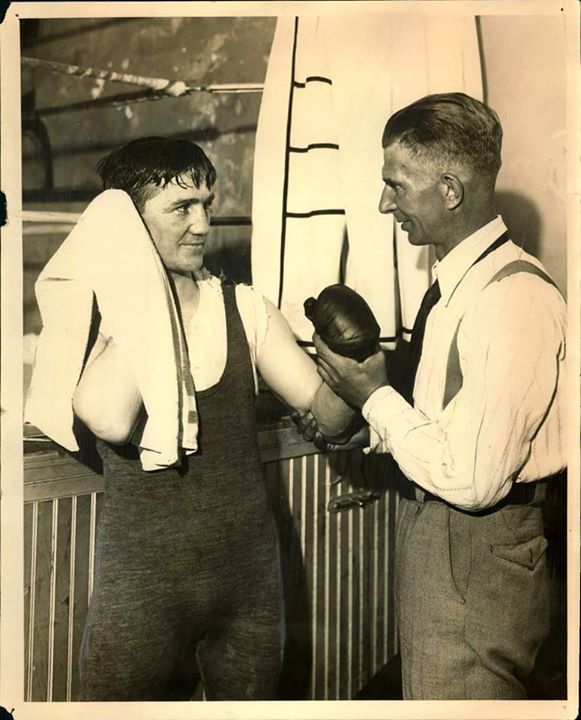 Mike O'Dowd, left, stands beside his trainer
---