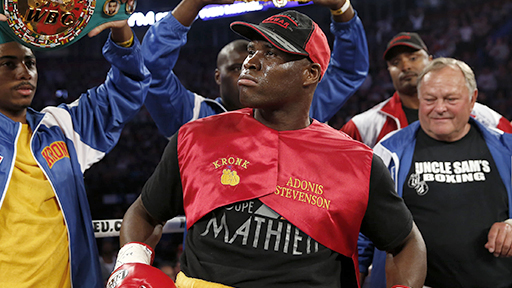 A usually dormant division exploded this past weekend with a knock out fest in Quebec when WBC light heavyweight Adonis Stevenson (23-1, 20KOs) impressively stopped his number one contender Tony Bellew in six rounds.  More devastating was the knock out by WBO champ Sergey Kovalev (23-0-1, 21KOs) who put to sleep Ismayl Sillakh in two in the semi-main event on a HBO broadcast.  Now the fight that everybody is calling is obviously a showdown between the two and while Kovalev enthusiastically agreed to it with his broken English when asked by Max Kellerman in his post-fight interview, Stevenson was coyer about whom he wanted to face next, naming Carl Froch and Bernard Hopkins before reluctantly considering Kovalev.
The fight to make is definitely Stevenson-Kovalev but the other pieces of the board, including Froch and Hopkins as well a few others, don't make for bad scraps either.  Either one versus the surly Froch would be fireworks in Canada or England.  Although Stevenson is a proven ticket seller in Canada where he has made his home away from home (Haiti), Froch can also demand for "Superman" to take a short flight across the pond to face the biggest name yet on his ledger.  Stevenson has already defeated Chad Dawson and Tavoris Cloud but neither of them where such big names as the "Cobra".  Letting Stevenson or even Kovalev face Froch would "marinate", as Bob Arum likes to call it, their possible future face off but also raise their Q rating with the non-hardcore boxing public.
The forty-eight year old Hopkins is the wrench in the machine.  Stevenson might have thrown the legend's name in there to try to throw Kellerman off his name and have him not insist on the Kovalev fight since a fight against the "Executioner" is the much harder one to make.  Hopkins is firmly entrenched across the street with Showtime while Stevenson is working closely with HBO.  The negotiations to put them in the ring against each other might be much more difficult than ending world hunger.  Besides with Hopkins one never knows and if the old man can take either one's punch, it can be believed that he can stop either one's rise to the top so the risk/reward factor there must be taken into consideration.
Despite the anticipation for the Stevenson-Kovalev fight and the fact that it could take place in Canada where the boxing public supports their fighters whole heartedly, both fighters are not PPV names or even close so they would be subject to a HBO licensing fee.
Two fighters near the weight that could change that for either one is Andre Ward and Julio Cesar Chavez Jr.  Ward, the undefeated 168 lbs. champ and HBO's latest rising star, is quickly running out of options in his division and is desperate for his own PPV main event.  Chavez Jr has outgrown the middleweight division and perhaps completely skipped the super middleweight one with his last fight at 173 lbs.  With a huge Mexican following, a fight with either Stevenson or Kovalev and even Ward as a matter of fact would be worthy of a Pay-Per-View showing.
What fight will be made? Whichever one that is the real winners are us, the fans.
---