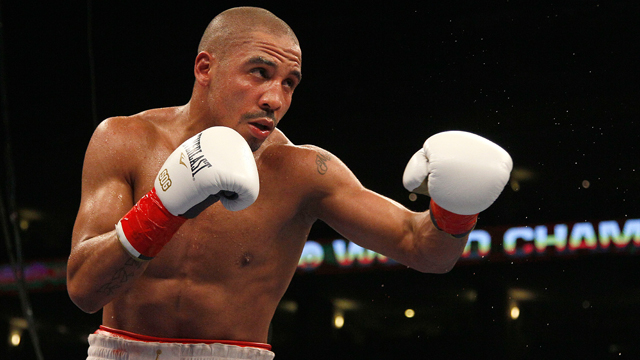 A healthy dose of boxing is on deck this weekend with important fights all over the world.  This Saturday night a myriad of fighters will be seeing action, some following their timely schedule, others coming back from injury or devastating knockout or stoppages.  As we gear up for the mega fight next weekend between Manny Pacquiao and Brandon Rios, this week's fights will serve as a good appetizer for that upcoming main course.
In the biggest fight of the weekend, WBA super middleweight champion Andre "S.O.G" Ward (26-0, 14KOs) comes back from an over a year hiatus to defend his title against fellow unbeaten Edwin "La Bomba" Rodriguez (24-0, 16KOs) in a twelve round clash broadcast live by HBO from the Citizen's Bank Arena in Ontario, CA.  It's been a tough nearly sixteen months for Ward since his last fight, a dismantling of the then light heavyweight champ Chad Dawson, as the Oakland, CA, native attempted and failed to leave his promoter Goosen Tutor as well as lose ground with a dwindling fan base because of what many attribute to a unexciting style and surly attitude.  The fact that he has been less than forthcoming of why he would not submit to performance enhancing drug testing when Rodriguez did is also not helping his case with the boxing world.  With all those extras aside, there is no denying that Ward is one of the most accomplished current fighters in the business.  With an impressive run in the Showtime Super Six tournament in which he defeated Mikkel, Kessler, Allan Green, Arthur Abraham and Carl Froch to take the crown.  In between, he also defeated current WBC champ Sakio Bika in a stay busy fight outside the tournament.
In his last fight, a tenth round TKO of Chad Dawson, Ward suffered a shoulder injury which put him out of commission for the majority of the year and which required surgery.  Now fully recovered, Ward will come back against the strong and determined Rodriguez.  The Dominican jumped into the boxing radar earlier this year by stopping tough up-setter Denis Grachev in the first round and thus taking the title of a million dollar tournament held in Monaco.  Despite looking devastating in that fight, Rodriguez has not faced the type of opponents Ward has making this a huge step up for the fighter who trains out of Texas with Ronnie Shields.
Wins over Don George, Aaron Pryor Jr and James McGirt in now way prepare you for an Andre Ward but Rodriguez has stated time and time again in the pre-fight promotion that they fact that Ward is coming off from such a long layoff is perfect timing for his strong, physical fighting style.
Will Rodriguez have what it takes?
It is no secret that Ward has been set up as the next star for HBO.  The network has even gone as far as include him on several broadcasts as one of their analysts.  I believe that Rodriguez brings an exciting style into the fight but nevertheless, a hand picked style that will make Ward shine with his excellent boxing skills.  Look for Rodriguez to make it interesting early on, making Ward not as much fight but work
---