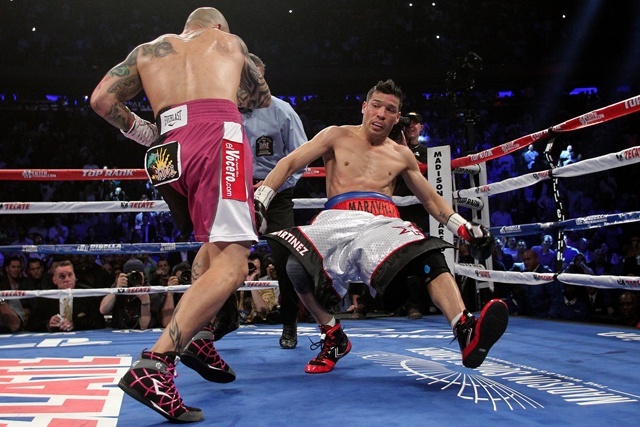 Just as things change, more they stay the same.  Boxing is a sport like no other.  In team sports, you might have a club that wins titles with years in between but it is rare for the squad to remain the same between one championship year and the other.  In boxing, although the supporting cast, trainer, strength and conditioning coach, promoter, might be different, the one with the gloves firmly laced up is always the same, the fighter.  This Saturday night we saw the same play again when Puerto Rico's Miguel Cotto became the first fighter from that island capture four titles in as many divisions when he completely dominated Sergio "Maravilla" Martinez of Argentina over ten rounds from the ring at the legendary Madison Square Garden in New York City.
After weeks of bitter and back between the two camps with Martinez accusing Cotto, who demanded to be the last out of out of tunnel, to be announced last and to have prime billing in all the promotional material despite Martinez being the champion, unceremoniously came out first for the HBO PPV event without music and with his sullen face set in a focused mask.  With exactly the same void of fanfare he came into the ring in front of over twenty-one thousand pro-Cotto rabid fans, Miguel dropped a slower and obviously off-rhythm "Maravilla" three times to the canvas in the first round.  As business-like as his never changing expression, Cotto was all-action as he stalked the bumbling Martinez around the ring and rained left hooks to the body and head of the Argentinean.  Martinez had no answer for the power punches that seemed to send electrical shock waves through his body which ended wobbling his already unsteady legs, especially his right one.  Martinez was coming off a more than year long hiatus to rehabilitate not only a bum shoulder but also a right knee.  Known for his mobile and quick-footed style, It wasn't even a question how important for both of legs to be in top working condition for Martinez to have a chance against the knockout hungry Cotto.
They weren't.
Martinez never was able to put his weight on that front leg and deliver a punch that would keep the always coming forward Cotto off him.  His jab was ineffective as well as Cotto was always out of reach of it as "Maravilla" just snapped it with his arm and not by stepping into it.  With no legs, Martinez had nothing in his repertoire to keep Cotto at bay and it was only a matter of time for the hard-hitting Puerto Rican to stop him.  At the end it wasn't Cotto but the conscious corner of Martinez as his trainer pulled the plug on the courageous Martinez in the opening moments of the tenth.
Before Saturday night, the last time we saw Cotto raise a new piece of hardware over his head was March of 2011 when he stopped Ricardo Mayorga in the last round.  After exacting revenge against Margarito, he lost twice, once to Mayweather Jr and again to Austin Trout.  Thought as finished, Cotto found Freddie Roach and after annihilating limited Delvin Rodriguez in a comeback fight, he found himself making history against Martinez.
Now he is the belle of the ball with everything from a Mayweather Jr rematch to a dangerous face-off against Gennady Golovkin being waived his way but everybody knows the truth.
All roads lead to "Canelo".
---