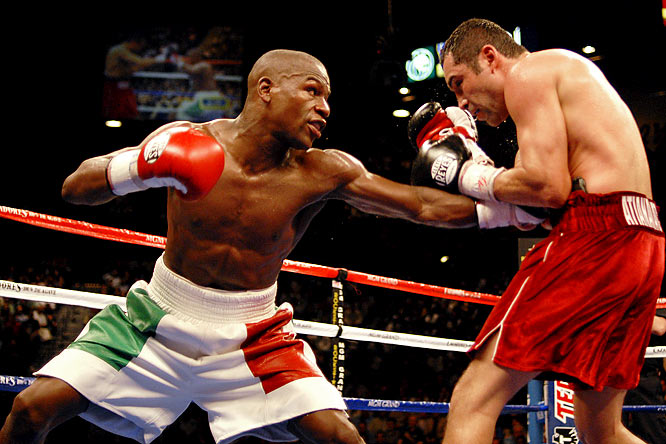 Words, words and more words from Oscar De La Hoya.  Considered one of the best fighters of his time, winning titles in multiple divisions, De La Hoya now is a renowned promoter.  One way or another, he knows how to keep his name in the news.  Some of times have not been according to plan like those now infamous photos of him posing in women's lingerie or coming out as a long time drug addict and alcoholic.  Now De La Hoya has done it again with a scathing letter he wrote to be published in the next edition of Playboy magazine.
In the letter De La Hoya thanks none other than Floyd "Money" Mayweather Jr for retiring and explains all the reasons why it was a good idea.  De La Hoya went on for almost twelve hundred words, comparing his career with Mayweather Jr's and explaining how he picked up six losses because he actually risked in his career while Mayweather Jr never did.  He called him boring and afraid and closed with advising Mayweather Jr to use his true skills and open up a used-car dealership or to go back to the show "Dancing with the Stars".
Yes, De La Hoya went pretty hard at Mayweather Jr.  As of now, Mayweather Jr has not responded but you can expect something is coming.
When De La Hoya was a fighter, he was built up by none other than Top Rank's Bob Arum.  He must have learned quite a bit.  When his firm's biggest fighter, Saul "Canelo" Alvarez, was going to face Mayweather Jr, De La Hoya precisely came out and publicly announced he was a recovering addict.  Might have helped sell some Pay-Per-Views.  Now that "Canelo" is ready to face his biggest challenge yet in Miguel Cotto and a big PPV sell is expected despite no Mayweather Jr or Pacquiao are in the title, De La Hoya comes out with this letter.
Shrewd business move.
Mayweather Jr should understand all about it.  Despite being retired, "Money" has been able to keep his name on all the boxing websites almost weekly.  The latest is his beef with former "lil' bro" Adrien Broner where it looks like we are headed towards a TMT vs Band Camp rivalry on par with rap's west vs east war over twenty years ago.  His latest is a video with about fifteen young ladies in several stages of undress dancing to the camera with Mayweather Jr throwing money at the lens.  Mayweather Jr declared that is the way he parties at nearly six in the morning.
Let's not forget De La Hoya actually has benefited from Mayweather Jr's "boring" performances.  Back when Richard Schaeffer was leading Golden Boy Promotions and De La Hoya was presumably nose deep in some powder, his company was the lead promoter for many of Mayweather Jr's fights.  Boxing is a fickle business but its biggest flaw, for good or worse, it's the lack of short or long term memory.
---