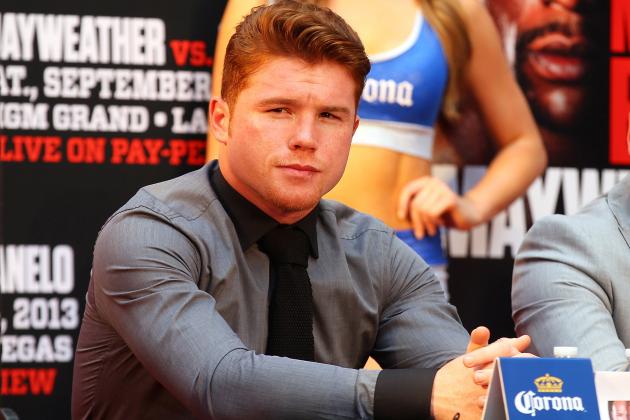 At twenty-four years old Saul "Canelo" Alvarez has achieved plenty in the world of boxing.  Beginning his career at the age of fifteen, Alvarez has been a professional nearly ten years and in the process has captured the WBC and the WBA super welterweight titles and lost them.  On his way to his present state in the sport he has amassed one of the biggest fan bases in boxing as well as quite an amount of ire from a number of fight fans that feel that Alvarez is nothing much than a marketing ploy arranged by the Mexican network Televisa and Golden Boy Promotions.
Needless to say Alvarez has shown some talent and has beaten some fighters that many didn't believe he could.  The first was Austin Trout.  The general consensus was that Trout, who has just beaten Miguel Cotto for the WBA 154lb title, was too much of a boxer for Alvarez.  Alvarez proved that he wasn't by out-boxing the boxer although a great number of fans and press saw it as a draw.  On that win Alvarez believed that he was ready for the best the sport had to offer, Floyd Mayweather Jr.
He wasn't.
Alvarez lost a lopsided unanimous decision to Mayweather Jr in one of the biggest fights of the new century.  Alvarez, with the help of his prominent Hispanic following, bounced back by stopping Alfredo Angulo in the first PPV squarely on his shoulders.  Some months later the second came with a win over Erislandy Lara, another foe not many saw him being able to beat.  Despite Lara's attempt in trying to use his mobility to hit and not be hit, the judges saw Alvarez's aggression count for more and gave the fight to him.
So if "Canelo" Alvarez is a proven commodity, a fighter that commands extraordinary purses and can produce good purses for his opponents, has a growing legion of fans, a contract with the biggest network in boxing and is the flagship fighter of one of the biggest promoters in the sport, why can't he easily secure a viable opponent?
It is no secret that "Canelo" Alvarez and his promoter, Oscar De La Hoya, want to take back the traditional Mexican fight dates in May and September.  For nearly ten years Floyd Mayweather Jr has unflinchingly fought on those dates but now with the help of Golden Boy and HBO Alvarez hopes to take them back.  The team knows to be able to wrestle it away from Mayweather he needs a strong dancing partner.  The offer was made to Cotto but after saying he would late last year, earlier this month he said no. Now Alvarez has gone after mercurial James Kirkland. Kirkland has reportedly agreed to the fight but now contract has yet been signed plus Kirkland to this day does not know who will train him to the fight. Is Kirkland the right guy for the job? Kirkland has in the past pulled a magic trick, here today, gone tomorrow, so is he the right guy to invest part of the changing of the guard?
I guess we will have to wait for May 2nd.
---