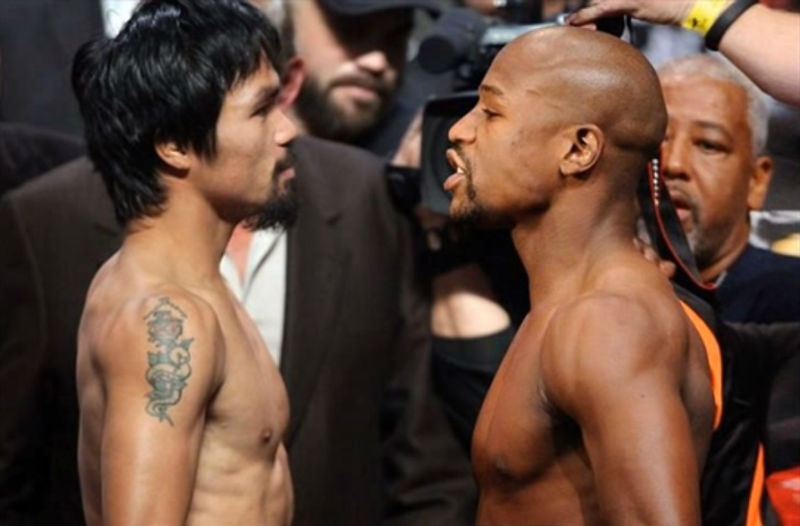 THE LATEST AND GREATEST BETWEEN MAYWEATHER & PACQUIAO
In hopes of bringing boxing fans the latest news in the on goings of the sport, Boxing 360 has your most recent progress report of the ongoing negotiations between Floyd Mayweather Jr and Manny Pacquiao for their proposed mega fight.  Top Rank's Bob Arum told a prominent Filipino newspaper that they are moving slowly but moving.  Arum said that Michael Koncz, long time Pacquiao advisor, is going back and forth between the two camps.
The main topic of discussion? You guessed it, money.  According to Arum, Koncz is discussing purse and PPV revenue splits.  For some time now Pacquiao has gotten off the proposed 50/50 split and how has agreed for Mayweather Jr to take lion's share of the available monies.
Although Arum stated that talks are moving, Koncz revealed that he has not spoken to anybody in the Mayweather camp for over a month and that it is a slow and long process.  Arum closed that we will never know if the fight will be made until it is signed, sealed and delivered.  Just this week Michael Koncz went on record to say that they are waiting on Floyd and are willing to give him until the end of the month of January for something to change.  If not, Koncz mentioned that they will look for Pacquiao to defend in April.
In what seemed like a joke when it first came on the boxing radar, a Middle Eastern investment group out of Abu Dhabi withdrew a $120 million offer made Floyd Mayweather Jr to face the Filipino congressman in the spring of 2015.  In a public statement M. Akbar Muhammad, the CEO of said group, ripped Mayweather Jr a new one stating that his company wanted to only deal with serious minded people that could make a decision and "that is not the case with Mr. Mayweather."  Because of that the offer is now off the table.  He went on to add that the offer was a real one and if Mayweather Jr wants to fight for "hot dog money" it was his choice.  Mayweather Jr has been named the highest grossing athlete in the last two years so his purses are hardly "hot dog money."  In closing Mr. Muhammad said that if Mayweather Jr wanted to call himself the greatest he needed to face adversity and defeat it just like Ali did against Frazier and Leonard versus Hearns.
Another statement that Arum has made that might not be beneficial to the actual making of the fight is that it would be disrespectful to Mexican fans and boxers alike if the fight is made on the traditional 5 de Mayo weekend in Las Vegas as Mayweather Jr alluded to a couple of weeks ago in an interview on Showtime.  Despite of that Pacquiao said that he is more than willing to fight Mayweather Jr on May 2nd no matter what Oscar De La Hoya, Saul "Canelo" Alvarez or Miguel Cotto have to say about it.
I don't think Mexican fans will mind either.
---