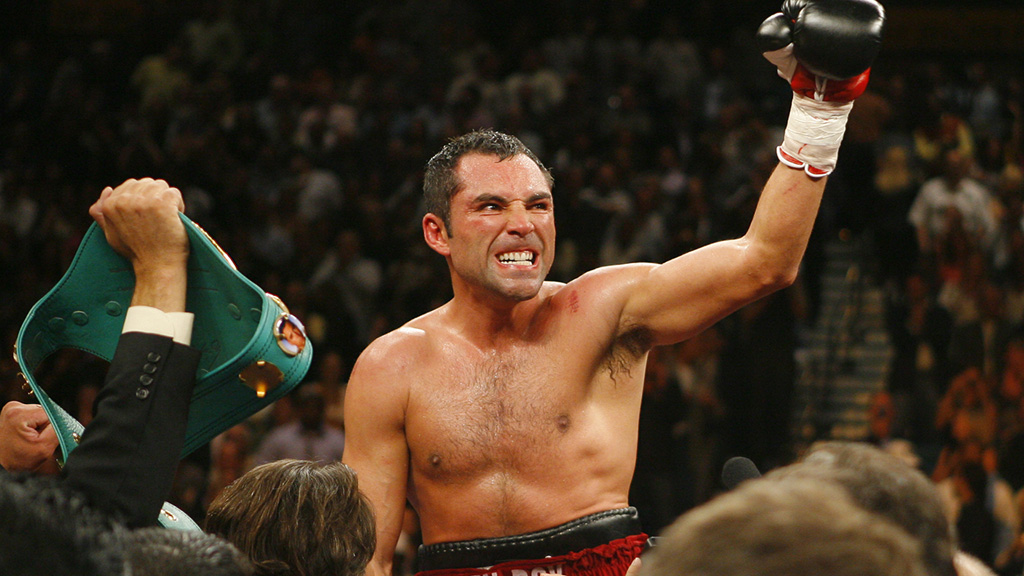 Did Oscar De La Hoya fall and hit his head and somehow it didn't get in the normal news cycle?  Or God forbid, he fell off the wagon and is back on the sauce?  The forty-two year old came out this week saying that he is considering a comeback to the ring, that he thinks about it every day, and if he decides to come back he would want to fight the best meaning Gennady Golovkin.
Wow.
De La Hoya can arguably be considered a legend in the sport.  Not only has he achieved greats feats inside the ring, multiple world titles in multiple divisions, fought all the big names and became one of the biggest stars in boxing, he has also done many great things outside of it.  He has become a real estate mogul, a generous philanthropist with hospital wings and schools under his belt and has built one of the most successful promotional companies of the last ten years.  He has also had his missteps, multiple children out of wedlock, controversial photos of him in lingerie and an alcohol and drug problem.
He obviously does not need to fight for the money so if he is seriously considering it, it is because the boxing bug has really bitten him.
De La Hoya has not stepped into a ring since December of 2008 when he was stopped in eight rounds by Manny Pacquiao.  He lost three out of his last five, to Bernard Hopkins at middleweight, to Floyd Mayweather in super welterweight and to the afore mentioned Pacquiao at welterweight.  His only two wins were to Ricardo Mayorga and to the much smaller Steve Forbes.  The more telling fact is that those five fights happened in the span of four years which means that the end of his career, De La Hoya was very sporadic in his activity.
It is no secret De La Hoya loves a challenge.  He beat Felix Sturm via a controversial unanimous decision at middleweight and faced the best of the division at the time in Bernard Hopkins and in his final fight, he dropped to 145 pounds to face Pacquiao.
Now he says that if he does come back, it would be to face the most feared fighter in the sport.
With that said, De La Hoya is thinking of coming in around the middleweight limit.  One train of thought is that De La Hoya might be putting himself in the lion's den to bring up the image of his next opponent.  It is said it happened with the Hopkins fight, who some time after became a partner in Golden Boy Promotions, with Mayweather Jr, who Golden Boy had a very lucrative business arraignment with until recently and with Pacquiao who for some time Golden Boy owned a piece of.
There is no world that Golden Boy Promotions has any business ties with Golovkin or his promoter K2.
So what is the answer?
Somebody better check De La Hoya's head for bumps or his wallet for a certain powdery substance.
---