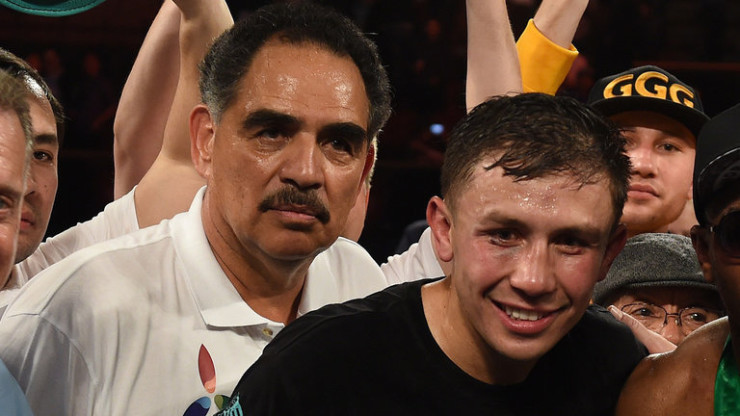 Next up in our end of the year Boxing360.com awards is Trainer of the Year.  This is a sneaky subject with some trainers with only one pupil under their wing and others with a large stable of fighters.  One nominee is Peter Fury, uncle of Tyson Fury, whose 6"9' undefeated champ is his only fighter.  Peter wasn't Tyson's first teacher, that job was the late Hugh Fury, another uncle.  When he moved on to a better life, Tyson ended up with Peter.  Peter is better known for training amateurs but with Tyson he has a world champion.  Is that enough to win the award? Not really, a trainer cannot be defined by the world he does with only one fighter.
Which brings us to Eddie Reynoso who trains Saul "Canelo" Alvarez.  He actually has been awarded the prize this year by other sites and media types but again, you can't be judged by one fighter alone.  Alvarez beat a Kirkland who had seen better days and a much smaller Miguel Cotto for the WBC middleweight title.  Granted, he looked great doing it but it wasn't enough compared with the resume put  together by the other nominees.  Even Peter Fury's charge had a better win this year although Alvarez looked better in his fights in 2015.
Brit Joe Gallagher is a strong candidate with a good stable of fighters out of the United Kingdom.  Super welterweight Matthew Macklin had a strong year with three wins and the WBC International title.  Scott Quigg only had one fight but he defended his WBA super bantamweight title with an impressive second round TKO over former champ Kiko Martinez.  Now he is slated to face fellow champion Carl Frampton.  His best charge this year was little known Liam "Beefy" Smith who fought four times, won them all, and captured the vacant WBO super welterweight title and defended it once as well.  Pretty strong.
Floyd Mayweather Sr is on the list for the work he has done with his son, Mayweather Jr.  Two wins this year, one against his arch-rival Manny Pacquiao in the much anticipated fight.  Mayweather Jr made it look easy not only against Pacquiao but also against his September rival Andre Berto.  Not enough to take the title.
Who does win the Boxing360.com Trainer of the Year award is Abel Sanchez.  Sanchez might have won the accolade on Golovkin's work this year alone.  "GGG" fought three times, stopping Martin Murray, Willie Monroe Jr and David Lemieux.  With the last win, he captured the IBF middleweight strap adding to his WBC interim and WBA titles.  Now he is on the verge of the biggest fight in his career against Saul Alvarez next year.  Sanchez also trains Cuban Sullivan Barrera, an undefeated light heavyweight wo went 3-0 this year including stoppages of Jeff Lacy and Karo Murat.  The cruiserweight Murat Gassiev went 3-0 but in his last fight against Isiah Thomas, not the basketball legend or any relation, had a disappointing result when the fight was deemed a no-contest after Thomas was not able to continue due to an accidental rabbit punch in the third.  Sanchez's fighter Ruslan Madiev continues to climb undefeated at 7-0 in the super lightweight division while welterweight Konstantin Ponomarev stayed undefeated with three wins this year over Steve Claggett, Mikael Zewski and Ramses Agaton.  The only point against Sanchez was Denis Shafikov who challenged Rances Barthelemy of Cuba for the vacant IBF lightweight title but came up short.
---