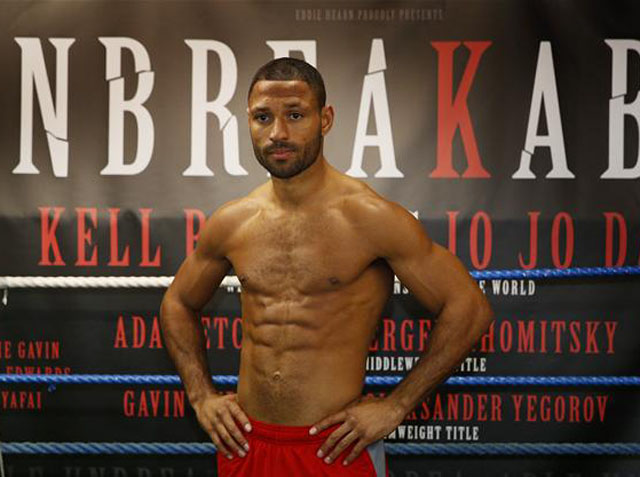 With the current pound for pound king, WBC welterweight and super welterweight champion Floyd Mayweather Jr announcing that he has returned to get ready for his next fight, everybody is putting on their case of why they should face him next.  Mayweather Jr has said that his fight slated for September 12th will be his last to coincide with the last fight of his contract with Showtime.  There are rumors that the fight is already done and will be against Andre Berto on terrestrial TV, more specifically on CBS.  Let's pretend that is not true and here is a list of who he should face next in order of boxing public appreciation.
Kell Brook (35-0, 24KO) – Quick, strong and skillful, "Special K" is everything that Maywaether Jr doesn't want to face any time soon. Brook holds the IBF welterweight title which he ripped away from Shawn Porter in a masterful performance.  Brook said he was interested in the fight and although he would make his biggest payday against Floyd, he does pretty well for himself in his native England where he enjoys a massive following.
Amir Khan (31-3, 19KO) – Khan has been the loudest solicitor for the fight and in early 2014 he actually won a poll set up by Mayweather Jr. Instead Mayweather Jr decided to face Marcos Maidana, twice.  With five wins in a row since his last loss back in 2012 to Danny Garcia, Khan has looked good in some, not that good in others.  Is he deserving of a Mayweather Jr? Perhaps not but besides Brook, neither are the ones on this list.  Khan does bring possibly the biggest name of the bunch and the largest audience.
Keith Thurman (26-0, 22KO) – The only other undefeated fighter on the list, Thurman as steadily making a name for himself as a welterweight while holding the WBA belt. "One Time" holds the most power than anybody in the list as well and that is why he might not be candidate for the last Mayweather Jr fight.  Floyd, now close to forty years old, is not as spry as he once was and tends to stick more in the pocket while getting hit more often.  Thurman is young and has pretty good speed so there is no doubt that in a twelve round fight he would be able to catch up with Mayweather at least and cause some damage, the last thing that Mayweather Jr wants.
Andre Berto (30-3, 23KO) – Berto might be the more viable candidate. A former welterweight champion, he doesn't devastating one punch power and has not looked all that great in the last few years.  Prone with injuries, he's on a two-win streak beating Josesito Lopez via TKO in his last fight.  Prior to that, he lost his prior two and is 3-3 in his last six.  Does that sound like the next best opponent for the best fighter of his era?
Karim Mayfield (19-2-1, 11KO) – Why this career super lightweight's name is being uttered in the same sentence as Mayweather Jr for this fight is beyond any logic. He is 1-2 in his last three fights with his win coming over nobody Michael Balasi.  This is a joke.
---