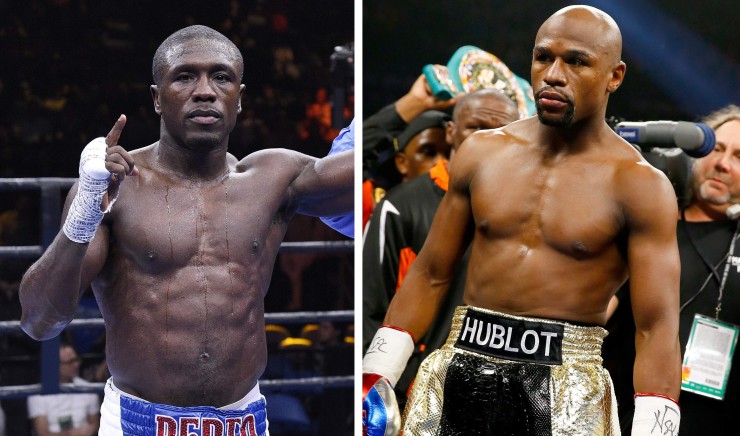 With a little more than a month to go before September 12th, this week Floyd Mayweather Jr and team finally officially announced their next opponent.  It was no surprise the name Andre Berto was called as Mayweather Jr's forty-ninth opponent since despite everybody and their mother calling out Floyd, Berto was the name that was ringing out the loudest.  Keith Thurman, Kell Brook and Amir Khan were some of the most mentioned finalist but perhaps they were a bit too dangerous to get in the ring with the considered current pound for pound king of the sport.
With time running short and with a Pay-Per-View to sell, this week also saw the kickoff presser for the Mayweather Jr-Berto in Los Angeles.  The mood was a quiet one with a bigger emphasis on the historic nature of the event than the fight itself.  You see, the fight marks the sixth and final fight in Mayweather's record-breaking deal with Showtime where he will get paid a whopping guaranteed minimum of thirty-two million dollars.
From comments like, "no one is forced to buy the fight," by Mayweather Jr himself, it seems as the whole event is being scene for what is worth, a very expensive tune-up fight.  Although Mayweather Jr, Mayweather Promotions' CEO Leonard Ellerbe and Showtime Sports' vice-president Stephen Espinoza keep telling everybody that asks, and even if they don't, this is Mayweather Jr's last fight, nobody really believes it.
Not much is expected from Berto's contribution towards the Pay-Per-View numbers and with nobody really challenging Mayweather Jr in the ring even at the age of thirty-eight, it is expected that he will fight beyond this point.  It is not expected for Berto to any better than Mayweather's previous forty-eight opponents even by Berto's trainer Virgil Hunter who stated, "we're coming to win but still gotta recognize what Mayweather Jr has done."
Of course with a new deal in place.
With a win over Berto, which is to be expected with Andre going 3-3 in his last six fights, Mayweather Jr ties the record for most wins with out a loss at forty-nine set by Rocky Marciano.  Granted, the great Julio Cesar Chavez Sr. got into the eighties before tasting defeat but he didn't retire that way.  It is expected for Mayweather Jr to look to break that record to solidify his claim as the best ever while making one final huge payday.
The question here is if Mayweather Jr has finally jumped the shark in the eye of the buying boxing public?
Mayweather Jr finally gave the boxing world what they were asking for even if it was five years later which was to face Manny Pacquiao.  The fight was a huge disappointing as far as the action inside the ring but a windfall for Mayweather Jr and Pacquiao's pockets with the biggest paydays ever recorded in the sport.  The purses put them on Forbes' best-paid athlete list but if you go by the hype of generated by the press conference held this week, it will be tough to get anywhere close to those figures.
---