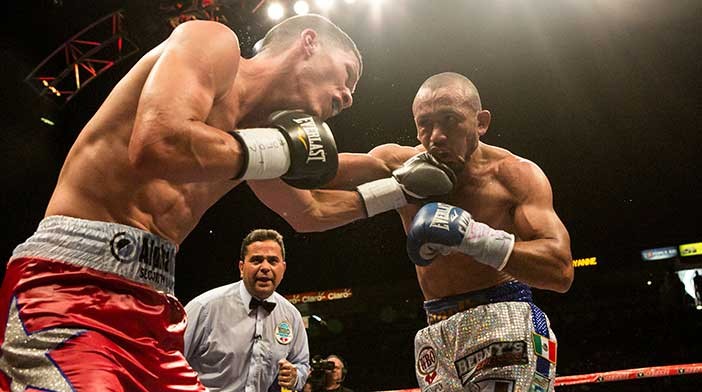 The highly anticipated rematch between WBO super featherweight champion Rocky Martinez (29-2-2, 17KOs) and Orlando Salido (42-13-2, 29KOs) now has a date. It will take place September 12th in Las Vegas, Nevada. It will be on the undercard of the main event between Floyd Mayweather Jr. vs. Andre Berto. Site location will be the MGM Grand.
The two fought this past April in in Martinez' native Puerto Rico. Even though he was fighting at home Martinez still entered the fight as a slight underdog. This likely had to do with the fact that Salido was unbeaten in Puerto Rico winning all the bouts inside the distance. Martinez has never  been known for his defense so Salido being the favorite was not so surprising. Martinez is one of those fighters who is much better than he looks. Salido found this out early as he was dropped in the third and fifth round. Martinez would go on to win a well-deserved unanimous decision.
The rematch will be fought on neutral turf this time around. The first fight lived up to the hype and  then some. The rematch is expected to do the same. Following the disappointment in the actual fight between Floyd Mayweather and Manny Pacquaio may have contributed to this fight being added. Those who saw or did not see but heard about Martinez vs. Salido's first fight may be eager to see them fight again. No confirmation on purses but it would not be surprising if both fighters got a significant increase in their purses this time around. Al Haymon participated events have seen the fighters receiving some very above average purses. In the case of Martinez and Salido both guys are deserving  of a nice pay day.
---