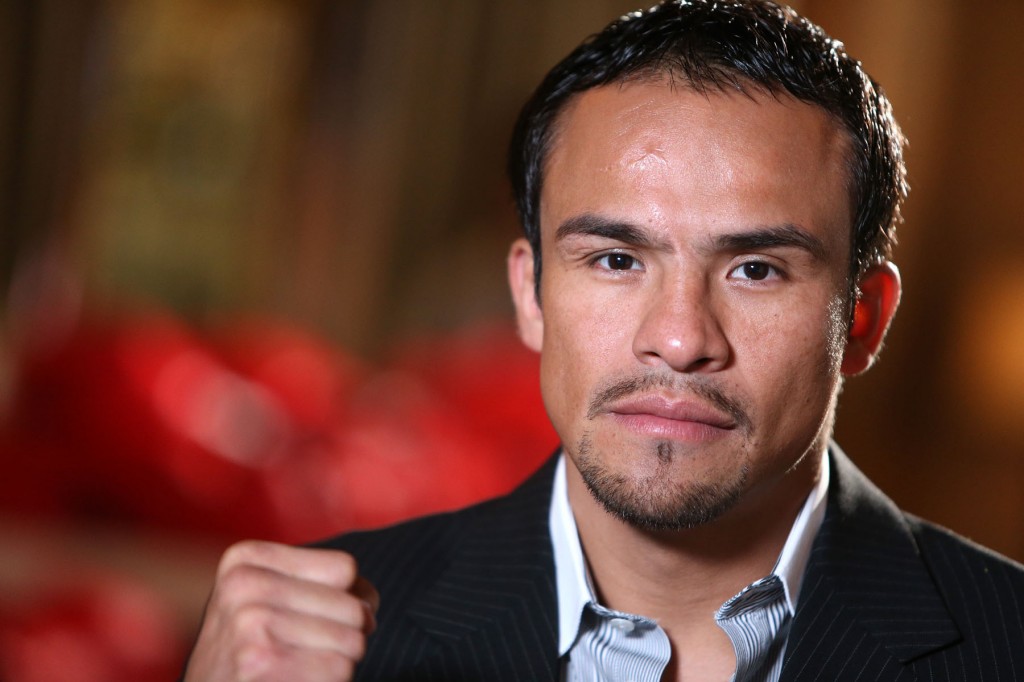 It appears that  there is the possibility that former 4-division world champion Juan Manuel Marquez (56-7-1, 40 KOs) will continue on with his career. Marquez career was said to have been in jeopardy do to an ongoing battle with a knee injury. It's no secret that Marquez has been in pursuit of his 5th world title in a 5th weight class. Marquez has been close to achieving this goal over the last few years but come up short.
The first time was back in 2011 when he fought longtime rival Manny Pacquiao in their third fight.  Pacquiao was the WBO welterweight world champion at the time. As in the previous two encounters the fight was very close but in the end the judges had it a disputed majority decision for Pacquiao. The pair would rematch for their fourth fight about a year later. This time Marquez took manners into his own hands and Ko'd Pacquiao decisively in round 6. It was a huge win but a non title bout as Pacquiao had lost his title to Timothy Bradley just months earlier. Ironically Pacquiao's loss to Bradley was considered a controversial one. Marquez would get his chance at Bradley and the WBO welterweight world title in October 2013. Marquez would again be on the end of a close decision. This one a split decision loss.
One fight that had been mentioned in the past year was against unbeaten IBF welterweight world champion Kell Brook of the UK. The time frame would seem about right as Brook will be making a title defense on May 30th in the UK vs fellow domestic fighter Frankie Gavin. Should Brook defeat Gavin as expected he could be available before years' end. Both sides had expressed interest in the fight in the past. It would be a mega fight in the UK and without a doubt the biggest name Brook has faced to date. It was recently announced that former two-division world champion Bradley would be fighting WBA junior welter world champion Jessie Vargas June 27th. The two will square off for the now vacant WBO welterweight title that unbeaten pound for pound king Floyd Mayweather Jr. immediately vacated upon defeating Pacquiao May 2nd. This would leave the Bradley- Vargas winner another potential matchup for Marquez to pursue.
The options seem to be there for Marquez to at least attempt to achieve his goal of that 5th world title in a 5th weight class. It's seems more of question of how his knee will respond. Marquez turned pro in 1993 and has a 42nd birthday coming up in August. He has not been very active fighting just three times the last three years. To his credit he didn't show any signs of slowing down in his last fight May 2014 against former world champion Mike Alvarado. He looked extremely sharp winning by unanimous decision. Marquez has given the fans some of the best fights over the past two decades. Time will tell if he has one more big fight in him to win that elusive 5th crown.
---