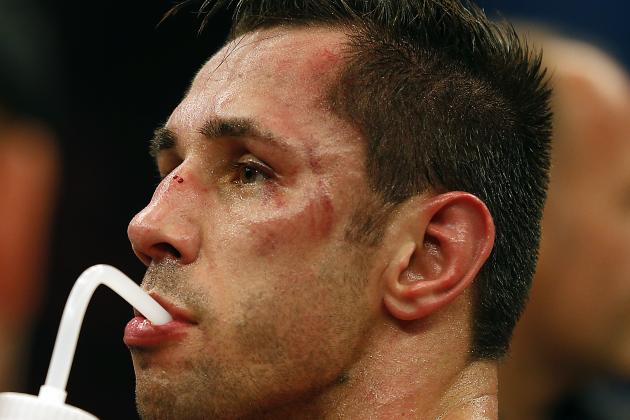 Four-time world champion Felix Sturm (39-5-3, 18 KOs) of Germany faces WBA Super World super middleweight title Fedor Chudinov (14-0, 10 KOs) of Russia February 20th. The main event will take place at the Koenig Pilsener Arena, Oberhausen, in Nordrhein-Westfalen, Germany. Sturm will promote the event as he did their first encounter where he dropped a split decision to Chudinov. The bout is scheduled for 12 rounds.
It is hard to believe that it has been nearly 12 year since a boyish looking Sturm took on Oscar De La Hoya back in June 2004. It was actually Sturm who was the defending world champion that night in Las Vegas, Nevada. Sturm was fighting for the first time out of his native Germany and making is USA debut. Sturm did not freeze up in the moment but stepped up to nearly defeat the heavily favored De La Hoya. Many felt that Sturm did deserve the decision nod that night but instead officially dropped a split decision. This however set the tone for Sturm as he was now a known quantity to mainstream boxing fans.
Sturm would rebound from the De La Hoya loss to win a version of the middleweight title 3 more times. He now is looking to become a two-division world champion at 37 years of age. It won't be easy as he once again faces the 28 year old unbeaten Chudinov who appears to be in his physical prime. Sturm without a doubt is the biggest name Chudinov has faced and defeated. The key word is defeated which he showed no nerves in doing on Sturm's home turf. Chudinov will not feel pressured at all to seek out a knockout knowing he has already defeating Sturm by decision. The pressure is actually now on Sturm to figure out how to defeat Chudinov to win that elusive second division crown.
---