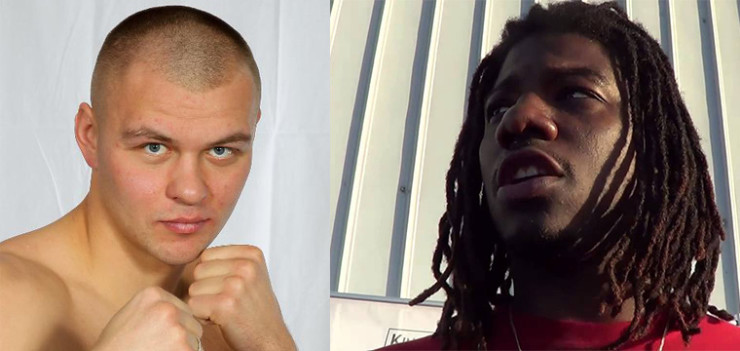 Our last selection came from the rematch between WBA interim world champion Vincent Feigenbutz (21-2, 19KOs) of Germany and Giovanni De Carolis (24-6, 12KOs) of Italy this past Saturday. The first fight saw what some felt was a hometown decision awarded to Feigenbutz. De Carolis even dropped Feigenbutz in round one but found himself on the end of a close decision points loss. This time they would fight for the WBA absolute world title.
The rematch like the first fight took place in Feigenbutz' native Germany. De Carolis again came out with a lot of energy. He was even more active the second go round which is really saying something considering his busy activity in the first fight. Feigenbutz had his moments as well but it just seemed as if De Carolis was more in control this time around. It was a close fight going into round 11 when De Carolis caught Feigenbutz with a punch flush that he didn't see coming. Feigenbutz was badly shaken and took some hard shot prior to the referee rightfully stopping it.
This week we have decided to go with the IBF Heavyweight world title fight between unbeaten challengers Vyacheslav Glazkov (21-0-1, 13 KOs) of the Ukraine and Charles Martin (22-0-1, 20 KOs) of the United States. The title became vacant after newly crowned unified world heavyweight world champion Tyson Fury was obligated to fight the mandatory Glazkov but Fury has a mandated automatic rematch clause by contract to fight Wladimir Klitschko. Fury was stripped by the IBF who mandated Glazkov to fight for the vacant title against the next available contender which was Martin.
The matchup is a very interesting one. Glazkov has much  more amateur experience than that of Martin. The overall size advantage goes to Martin. You just get the impression that even if Martin is behind on the scorecards that at any moment he could hurt Glazkov. Some sportsbooks have Glazkov a slight favorite at -160  to the +140 underdog Martin. These odds suggest a fight that could go either way. Glazkov has not looked good of late even though he has remained unbeaten. Martin is coming in with some good momentum albeit against lesser level opposition. We're going to pick the underdog Martin on this one to win.
Disclaimer: Boxing360's Pick of the week is strictly for entertainment purposes only
---