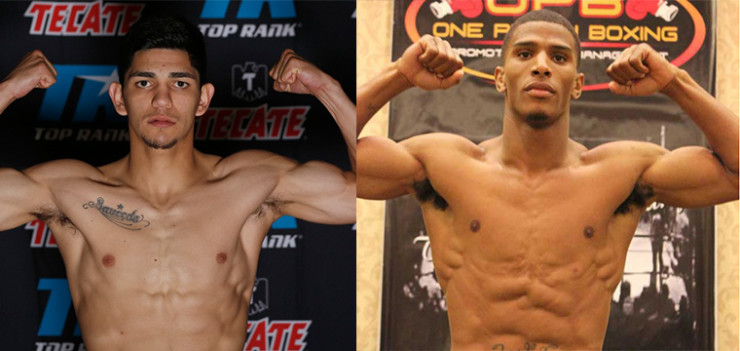 We went with the matchup between former USA Olympian Jamel Herring (15-0, 8 KOs) and hard punching Colombian Luis Eduardo Flores (21-3, 17KOs). The two squared off yesterday at the Sands Bethlehem Event Center in Bethlehem, Pennsylvania. The show's promoter was Marshall Kauffman (King's Promotions) while FOX Sports 1 aired the event. Herring entered as the favorite and was making his first appearance as the headliner on a televised event. The formerly world ranked Flores was making his United States debut. Flores plan was very obvious from the beginning looking to walk down Herring and catch him with a powershot. Herring defensively was just a tad too elusive for Flores. Offensively Herring shined bright dropping Flores twice in route to winning an impressive unanimous decision. This was also a victory for us as we picked Herring to win.
This week we have decided to go with the matchup of unbeaten Alex Saucedo (20-0, 14 KOs) of Oklahoma and Clarence Booth (13-1, 7 KOs) of Florida. This is a step up for both guys as they have fought about the same level of competition. The bout will be the main event and take place at the Sportsmans Lodge, in Studio City, California. Top Rank will promote the event which will be aired Unimas.
Saucedo turned professional in 2011 at just 17 years of age. He is just 21 years old now but seems extremely ready to take that next step. His list of opponents is not very impressive but you can see his rapid development in each fight. Booth's path to current day has been much different than that of Saucedo. Booth has for the most part fought on the ballroom circuit where Saucedo has fought on the undercard of some major events. Booth at 28 is not old but next level guys are usually at contender status by his age. We are going with the younger Saucedo to win this fight. He seems ready to become a world ranked contender.
Disclaimer: Boxing360's Pick of the week is strictly for entertainment purposes only.
---