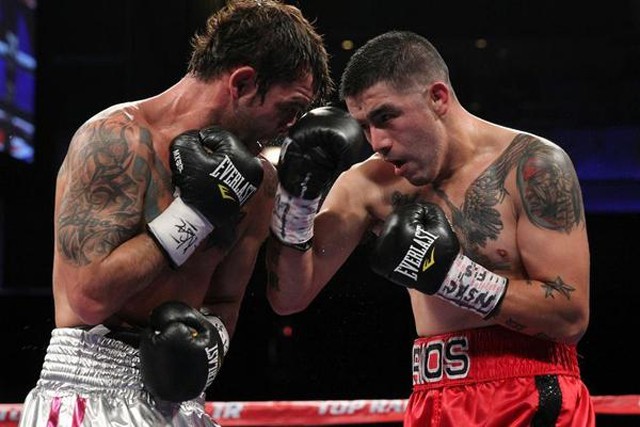 A win via ninth round disqualification was not the way that former lightweight champion Brandon "Bam Bam" Rios wanted to come back into the boxing limelight but that is exactly what happened when Argentinean Diego "La Joya" Chaves was deemed too dirty to continue by third man in the ring Vic Drakulich on Saturday night from The Cosmopolitan Hotel in Las Vegas.  The fight was the main event of the "Boxing After Dark" broadcast by HBO.  In the opening bout of the telecast we saw WBA light welterweight Jessie Vargas get a unanimous decision over Anton Novikov while Sergey Kovalev stopped Blake Caparello in two rounds to keep his WBO light heavyweight title as well as earn a shot at "The Alien" Bernard Hopkins later this year.
The fight, and that is what it was, a fight, began in typical Rios fashion with both fighters winging bombs from early on.  What wasn't expected was for experienced referee Vic Drakulich to make himself such a part of the story from such early on.  With both fighters stretching the limits of the rules, Chaves with excessive holding and Rios coming in with his head, Drakuvich decided to take a point from Chaves in the third round without any audible warning beforehand.
The fight kept deteriorating from there but with a subtle difference, Chaves began to box a bit more and put a lead together with much more accurate punches than the aggressive but defenseless attack we have been accustomed from "Bam Bam".  Drakulich took a point from Rios in the fifth for the same offense that Chaves was charged for.  At that point it didn't seem that Rios was holding but he still kept it dirty by coming in with his head when Chaves looked for the clinch.
The fight fell into a pattern for the next couple of rounds where Chaves initiated a clinch as soon as Rios got close enough to inflict any real damage.  Chaves then got a point taken away for a head-butt despite Rios was the one coming in with his head for the majority of the fight.  It seemed as if Drakulich was getting it wrong the whole night.
After yet another clinch in the ninth, Rios complained of Chaves raking his eyes with his glove.  After a couple of expletives and shoves, Drakulich looked more confused that either fighter and decided to disqualify Chaves.  At that point in the fight, Chaves was up in the card with scores of 75-74 twice with the third judge seeing it for Rios with the same numbers.
After months of inactivity, Rios looked rusty and lethargic.  His trainer Robert Garcia implored him to bring back the old Rios, the one that would run into a fire to punch his opponent in the middle of a burning house.  Surprisingly after the fight the next opponent for Rios was not discussed but what was next for Chaves who was said to possibly face Mike Alvarado in China in November.
We might have seen what we have been expecting for quite some time now with a fighter with Rios' style, the end of his career.  Visibly slowing down and with no plan B, Rios might be a fight or two away from a spectacular KO end.
Unfortunately it will be his.
---