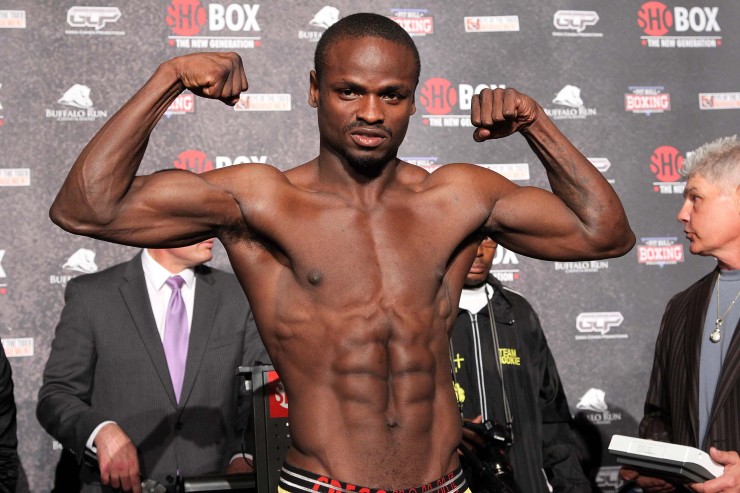 Former world title challenger Dierry Jean (29-1 , 20 KOs) of Canada by way of Haiti will once again get his chance at a world title this Saturday night. Jean will challenge unbeaten WBO junior welterweight champion of the world Terrance Crawford (26-0 , 18 KOs). The main event will take place in Crawford's hometown of Omaha, Nebraska at the Centurylink Center. HBO will televise the show.
It has been nearly 2 years since since Jean challenged former world champion Lamont Peterson. Jean earned his opportunity the hard the way. He moved his way up the rankings with solid victories capped off by a exciting knockout in his world title eliminator. Jean then went into Peterson's native Washington D.C. for his chance at the world title. Jean started the fight out really well. It looked like he was on his way to upset Peterson when things took a turn in the other direction. Peterson really poured it on offensively the second half of the fight. Jean was very game but Peterson was just too much in the end. Two of the judges scorecards reflected Jean's game effort. It was a learning experience and one that could serve him well this Saturday.
In Crawford Jean will be facing one of the top fighters in all of boxing. The fact that he is facing Crawford in the latter's hometown likely will not be an issue mentally for Jean. He showed this in his bout with Peterson. Jean is not lacking at all in confidence. He has clearly showed this throughout the promotion for this fight. Crawford is a very complex fighter to prepare for you. He has so many different angles that he can come at you with. He effectively can fight you from the conventional or southpaw stance. He has a finesse and power game. None of this seems to bother Jean. He seems to have it set on his mind that he will be victorious Saturday night and a new world champion. This is much easier said than done but then again this is why fights are determined in the ring.
---